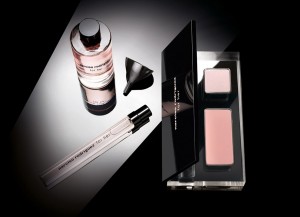 NEW YORK, Apr 18, 2010 / FW/ — Narciso Rodriguez, known for creating simple, natural elegance, unveils women's innate beauty and sensuality, is delving into make-up this spring with the launch of two limited-edition beauty palettes inspired by the timelessness and sensuality of Narciso Rodriguez eau de parfum fragrances
A favorite among the fashion set, Narciso Rodriguez's creations illustrate his expertise and well-considered attention to detail. This same discerning sensibility spawned the creation of his musk-inspired fragrances.
Just as Rodriguez's clothing heightens the grace of the feminine figure, his fragrances highlight each woman's individual beauty, revealing her personal aura.
The perfume and beauty palettes include a 10 ml eau de parfum spray with a 50 ml eau de parfum refill bottle, a cream-to-powder sheer, smooth and weightless matte blush that gracefully highlights the cheeks, and a delicately glossy lip balm. With a soft sultry gesture, a carefree touch, apply blush and lip balm with fingers to reveal your natural beauty.
The simple, stylized compact blends depth and transparency for sober, refined elegance. It can be easily carried in a purse, so you can freshen up your natural glow any time of day.
Narciso Rodriguez 'for her' – perfume and beauty palette
'for her' eau de parfum 10 ml refillable spray.
'for her' eau de parfum 50 ml refill (+ funnel): a radiant pink chypre – an elegant, mysterious fragrance.
a 'for her' scented matte blush, to flush the cheeks with an airy veil of pale pink.
peach-scented lip balm to add a delicate touch of pink.
'essence' Narciso Rodriguez – perfume and beauty palette
'essence' eau de parfum 10 ml refillable spray.
'essence' eau de parfum 50 ml refill (+ funnel): a floral, powdery, modern musk – a pure, luminous fragrance.
a matte blush in sunny essence tonalities with a soft, airy texture.
violet-scented lip balm delicately glazes the lips with a hint of translucent white.
Each carries a suggested retail price of $84.00 USD, and will be available in April exclusively at Saks Fifth Avenue.