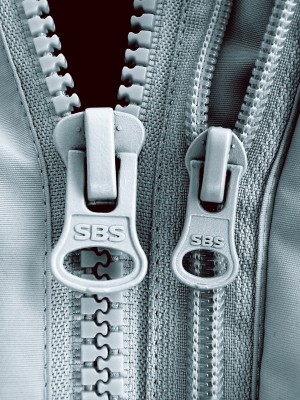 The Zipper Turned 97
DALLAS, Apr 30, 2010 / FW/ — The zipper, an ubiquitous fastener in most garments has also been a source of inspiration for many designers beginning with Donatella Versace who at one time designed a whole collection based on a zipper.
An American invention, 97 years ago yesterday, Gideon Sundback received a patent for the "separable fastener" which was soon named the "zipper" on April 29, 1913.
For years, the zipper was used just on rubber boots, but designer Elsa Schiaparelli used them on her 1930 fashions, and today they are universal. Along with velcro, zippers are a vital part of the apparel industry.
According to the U.S. Census Bureau, across the U.S. there are 153,000 clothing stores, and they sell $123 billion worth of women's, men's, and children's clothing each year. Not bad for a 97-year-old fella, don't you think?
***
Billabong's 4th Annual "Design for Humanity" Benefit
LOS ANGELES, Apr 30, 2010 / FW/ — Billabong's 4th annual Design For Humanity benefit (www.designforhumanity.com), to be held on Thursday, June 10th, 2010, is heading to a new location set in the heart of legendary NY streets on the back lot of Paramount Studios in Hollywood.
This massive fashion-music-art block party will feature two concert stages, DJ dance parties, a runway fashion show showcasing one of a kind Billabong bikinis, a custom art gallery in partnership with the Carmichael Gallery, live art installations, Hit+Run live t-shirt screen printing, food trucks, a VIP street, and much more.
Legendary electroclash duo FISCHERSPOONER will be headlining this year's event for an unforgettable festival of light and sound performance. Chi-town rapper Kid Sister, who seamlessly fuses elements of electro pop, Hip-Hop, and ghetto house will also be taking the stage. DJ's Pase Rock, Classixx and Them Jeans will be providing jams throughout out the night.
100% of this year's ticket sales and proceeds from art show and product collaboration auction sales are being donated to Invisible Children (www.invisiblechildren.com), an organization raising awareness and funds for families affected by the long-standing war in Uganda, Africa.
Invisible Children rebuilds schools devastated by war, benefiting over 8,400 Ugandan youth in the areas of water and sanitation, books and equipment, refurbishment of structures, teacher support, and technology and power.
This year's event is sponsored by Verizon Wireless and Samsung.
DESIGN FOR HUMANITY
Thursday, June 10, 2010
Paramount StudiosNY streets Backlot
Ticket Price: $30 – $50, VIP $150
100% of proceeds from ticket sales will go to benefit Invisible Children
Tickets on-sale May 12th – http://www.designforhumanity.com