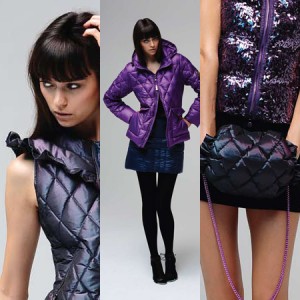 PARIS & DALLAS, Apr 21, 2010 / FW/ — Signing his second collection for Pyrenex, Alexis Mabille masterfully brought the 150-year-old company to 21st century fashion with the ultra modern looks that border on futuristic but never crossing the line to become sci-fi.
With black, silver and purple as the main colors, Alexis Mabille created jackets, capes and hoodies that will be at home in the ski slopes and in the metropolis.
Named Pyrenex Premium with the obvious reference to the parent company, Pyrenex which for the past century and a half is known for its premium down feathers, the newly formed fashion line Pyrenex Premium is carving a name in the fashion world.
Pyrenex Premium, even with its established French pedigree is still an emerging fashion brand. Alexis Mabille is also an emerging designer… or is he still one? In a recent episode of Jeopardy, the famed American quiz show wherein one of the clues pertains to Alexis Mabille.
And the clue is in the Double Jeopardy section, which is harder, but the Alexis Mabille question is worth $200, which is the easiest on the board. To those who follow Jeopardy, that means that the contestants are expected to know the answer, and they did.
As Edouard Crabos, a fifth generation Crabos running the family business had commented about Mabille, "Pyrenex made an audacious choice in giving carte blanche to Alexis Mabille, our artistic director. This young fashion designer has literally invented a Pyrenex style and is the force behind our luxury collection."
Jeopardy clue or not, Alexis Mabille is already well-known in the fashion world for his avant-garde vision of fashion. And though he has only been with Pyrenex Premium for two seasons, he has already brought the brand into the consciousness of fashionistas.
[MARI DAVIS]
Photos courtesy of Pyrenex