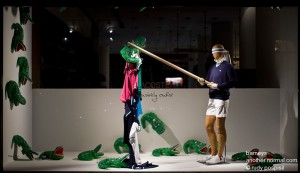 NEW YORK, Apr 11, 2010 / FW/ — Featuring Lacoste, Chelsea Passage, The Selby, Adam Kimmel, Celine, Givenchy and Proenza Schouler, Barneys presented very eclectic windows for April.
For Lacoste, the famed Lacoste alligator was turned into a piñata with Lacoste shirts falling out of it once it was cracked open.
Chelsea Passage looked like the bedroom of two New Yorkers.
The Selby is obviously a feature on the famed photographer Todd Selby, which was all about menswear. The Adam Kimmel window is also menswear.
The Celine window is made up of brown starbursts, while the Givenchy is full of water droplets. The Proenza Schouler window has water drips.
[MARI DAVIS]
Photos courtesy of www.anothernormal.com