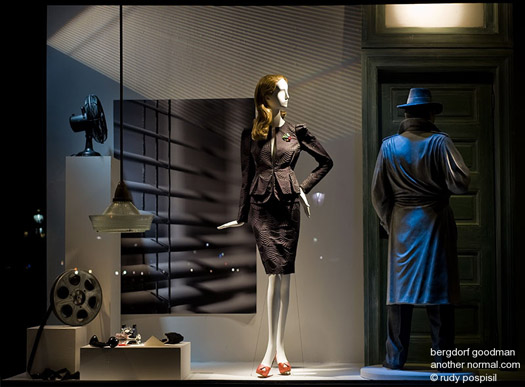 DALLAS, Apr 14, 2010 / FW/ — Bergdorf Goodman's 11 store windows fronting Fifth Avenue by the corner of 58th Street is what I usually classify as the main displays for the luxury retailer.
For April, the theme is the cinema with almost all the scenes can be identified with a famous movie and of course, the scene with a man and a woman in a projector room; the man in a trench coat and getting ready to leave, which is almost a cliché scene in film noir or old detective movies.
Nevertheless, it is enjoyable to see "Jaws" swimming with a clutch, a T-Rex from "Jurassic Park" running around with a handbag, "The King of the Grizzlies" hanging out with the girls, the squirrel going UP with his acorns in a purse.
"Close Encounters of the Third Kind" has never been so easy, or is it "StarGate"? Of course there is "The Bride of Frankenstein" and "Dracula." There might even a romantic comedy in there.
Once again, a delightful set of windows from Bergdorf Goodman.
[MARI DAVIS]
Photos courtesy of Anothernormal.com