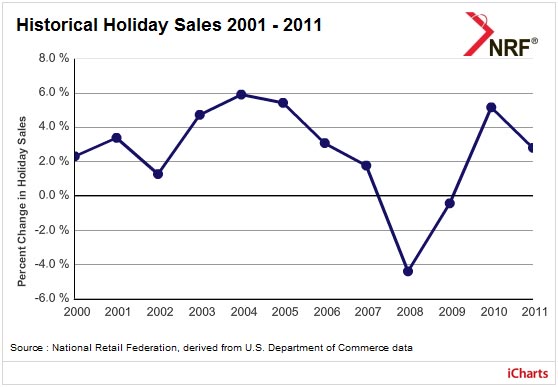 WASHINGTON, D.C., October 6, 2010 – The 2011 holiday season can be summed up in one word: average. On the heels of a holiday season that outperformed most analysts' expectations, holiday retail sales for 2011 are expected to increase 2.8 percent to $465.6 billion, according to the National Retail Federation.
While that growth is far lower than the 5.2 percent increase retailers experienced last year, it is slightly higher than the ten-year average holiday sales increase of 2.6 percent.
Though several economic indicators paint a solid picture for the holiday season – including 14 consecutive months of retail sales growth and a substantial reduction in household debt – continued consumer uncertainty over the stock market, higher gas and food prices, fiscal policy and sputtering job growth will impact spending this holiday season.
Additionally, the substantial year-over-year gains for the 2010 holiday season will create more difficult comparisons for retailers to achieve this year.
NRF's holiday sales forecast is developed based on an economic model using several indicators including consumer confidence, consumer credit, disposable personal income and previous monthly retail sales releases.