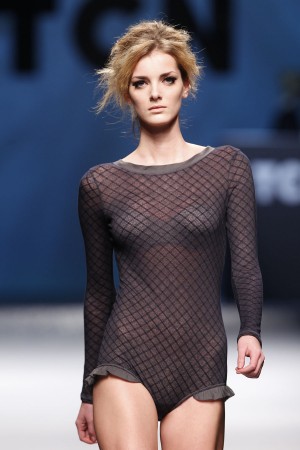 MADRID, Apr 15, 2010 / — Totón Comella's choice is somewhere between the sophisticated and the casual. Her 2010-2011 winter collection comprises a base of fabrics with a shiny and silky appearance and with a technical air apart from the always present very sweet cottons and plushes.
Prints: Romantic, confetti, Vichy and retro…
Volumes within the different lines:
Corsetry and lingerie: very feminine garments that enhance women's bodies. A predominant role is played by bandeau and underwire bras, high waists, bodysuits and corsets, gathers, lace and combinations of glossy and matt effects.
Outer Homewear: Dresses with upper wide volumes, fitting at the waist and the hip, in conjunction with silhouette-enhancing high skirts.
Drainpipes, leggings and leotards continue to play a prominent role together with plush trousers affording a more urban air. Blazers with a velvety appearance and straight coats round off the figure. The collection is enriched by contrasting piping and very light pleats and flounces.
Colours:
Greys, silvers, nudes, coppers, greens and khakis and the essential
black.
Photos courtesy of Cibeles Madrid Fashion Week
Cibeles Madrid Fashion Week Fall 2010