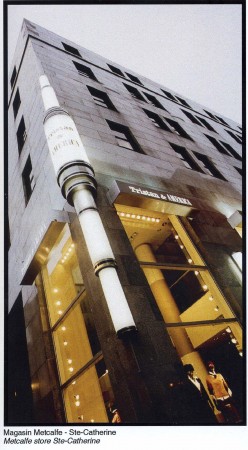 MONTREAL & DALLAS, Apr 18, 2010 / FW/ — One of the most well-known clothing brands in Canada, TRISTAN traces its roots in Toronto when in 1985, it opened its first store under the label Tristan & Iseut. Twenty-five years later, Tristan had grown into a network of more than 50 stores all over Canada.
TRISTAN, like Club Monaco and Ports belongs to the group of fashion houses wherein the brand was developed without the public knowing who is or was at the creative helm. Hence, they are perceived by the public more as retailers than fashion houses. Nevertheless, they are also seen as designer brands.
Though Tristan, Club Monaco and Ports all have Canadian roots, Tristan stands out because up to today it is a Canadian company and had stayed home. Club Monaco is now owned by Ralph Lauren Corporation while Ports, more famous for its Ports 1961 label, is now based in China.
That said; it is also important to note that Tristan continues to invest locally, putting in $2.8 million in 2007 to modernize the Quebec-based production facilities, thereby doubling local production capability hence also creating jobs in the local economy.
And as Tristan President Gilles Fortin explained, "At Tristan, our business vision allies commercial competitiveness and social and economic awareness to the ultimate benefit of the community. When we are successful, we believe that it is important to share our good fortune with our fellow citizens."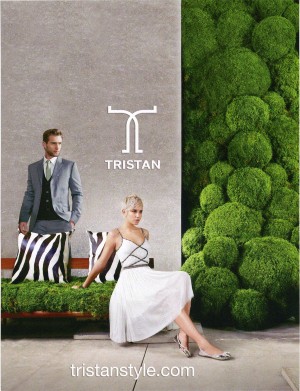 Seeming to prove his point, Mr. Fortin showed FashionWindows the new equestrian line by Tristan that is designed, sourced and manufactured in Canada. "Everything is done right here in Quebec," Mr. Fortin beamed.
Tristan tries to keep as much of their production done at home, but to be competitive, they also have to send a bulk of their manufacturing needs to China. But, even with that, Tristan continues to invest in the production of Canadian made apparel.
Between 25% – 35% of all Tristan garments, usually the high end jackets and tailored pieces in particular are all made in Canada.
And because of Tristan's policy of "responsible choice & fair prices", this illustrates to the consumers that buying Canadian-made apparel does not mean having to pay more. In fact, by buying local, consumers are supporting the economy and also help lowering their own carbon footprint by being a locavore.
On a personal note, after seeing Tristan's operations first hand during a recent visit to Montreal, I started wondering when I will see the Tristan label showing during Montreal Fashion Week. Tristan has the design capability and of course, the financial backing to launch a high-end line.
Ports International became a household name in the U.S. when they launched Ports 1961. Tristan can be too, with the added attraction of it being based in Quebec. After all, it's time that a Canadian product other than Blackberry be part of an American household.
[MARI DAVIS]