DALLAS, Apr 29, 2010 / FW/ — Twinkle, twinkle little star… for the dancer inside every girl, whether they are 5 or 50 and everyone in-between, Twinkle Toes Body Dust is for those who love to shimmer.
All-natural, all-pink, all-glittery powder can be sprinkled in shoes, bags and o course all over the body for a stylish sparkle.
Created for girls who love to dance, Twinkle Toes Body Dust will enhance any ensemble and make you feel as fabulous as you imagine.
Talc-free and available in Pirouette Peppermint scent, Twinkle Toes Body Dust retails for just $5 for 1 oz. and $15 for 4 oz. at www.HerbanRenewalInc.com
Based in Abilene, Texas, Herban Renewal was launched in 1996 with the goal of creating a line of Earth-friendly personal care products utilizing all-natural, top quality ingredients right from the garden.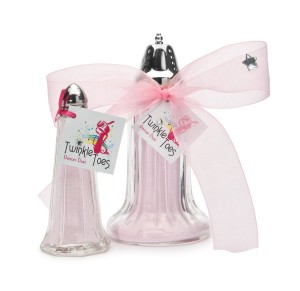 From the original Herban Renewal bath & body care line, the company has added three more – Arcelia, Livi.Lu.Lu and Sweet Cheeks. Twinkle Toes is part of the Herban Renewal body care line.
Made in West Texas by mentally and physically challenged adults, Herban Renewal has been giving back to the community since its founding by providing jobs to those who need most and also donating products to the Love & Care Ministries, a homeless outreach in Abilene, TX and to the Noah Project, a battered women shelter.
[MARI DAVIS]