DALLAS, Apr 28, 2010 / FW/ — Raising their fashion quotient, LG Mobile Phones team up with Victoria Beckham and Eva Longoria Parker to promote personal style and the latest LG touchscreen handsets – Elite and Rumor Touch.
The integrated campaign, called LG Fashion Touch, promotes personal style and the idea that mobile phones have become the latest in fashion communication.
The partnership includes a print and online campaign, series of MTV vignettes, consumer promotion and an event in Los Angeles to celebrate the integration of fashion and technology.
The LG Fashion Touch campaign pairs two of the most fashionable phones with two of the world's most well-known fashion enthusiasts.
LG partnered with the famous friends because their unique personal styles complement the design aesthetic of the handsets and their friendship aligned perfectly with the dual product launch.
LG Lotus Elite is bold and edgy, which is a reflection of Victoria's style. LG Rumor Touch is a sleek and more classically designed handset, which is a reflection of Eva's style.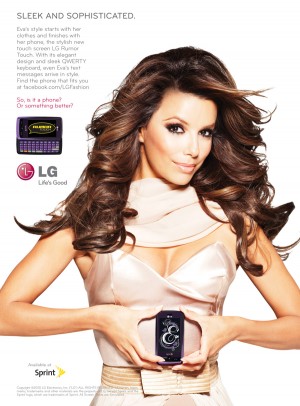 To engage consumers, LG created the Fashion Touch Style Quiz on the LG Fashion Touch Facebook page www.facebook.com/LGFashion.
LG and Sprint are proud to offer consumers LG Lotus Elite and LG Rumor Touch in an expanded variety of stylish colors. These sleek and fashionable messaging devices offer users a more advanced handset with the additions of touchscreen technology and new exclusive features.
Available in new colors on April 19 in all Sprint retail channels including www.sprint.com, LG Lotus Elite will come in red and black for $99.99 with a new two-year service agreement and $50 mail-in rebate and LG Rumor Touch (currently available in black) will now be available in Red and Purple for $79.99 with a new two-year service agreement and $50 mail-in-rebate.