CHICAGO, Apr 16, 2010 / FW/ — Before there were fashion photographers, there were fashion sketch artists who up to today still sit and sketch during haute couture shows in Paris.
Though most of them are either in New York, London, Milan or Paris, some, like Ward Nipper do not live in fashion capitals but live in other big cities like Chicago.
A graphic designer by training, Ward Nipper started drawing as a hobby, balancing his daily work life that usually revolves around computers. Sketching gave him the fulfillment needed by an artist to work with his hands.
"Drawing is an important creative outlet for me," Nipper said. Hence, his sketching taking the natural path of progression from being a hobby to a part of his portfolio was inevitable.
And on Sunday, April 18th, at Randolph Street Market's "Modern Vintage Chicago Spring Clothing and Jewelry Explosion", Ward Nipper is bringing his sketchbook to create his own renditions of vintage designs.
Nipper will be set up at the booth of Lulu's at the Belle Kay, is his favorite place in Chicago to look for inspiration in good vintage women's wear. He'll be sketching his friend Bahar Partow, a photographer who has agreed to model vintage for the morning.
"When I'm working with a live model the collaboration and energy are inspiring," Nipper says. "It's like a fashion photo shoot, but without the mechanics of photography."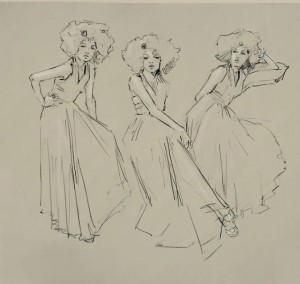 In the coming months, Nipper's recent focus on vintage fashion will be expanded to include Chicago's dance community. In May, an original drawing will be auctioned at a benefit event for River North Dance Company and plans are underway for Nipper's sketches of dancers to be exhibited at an event at The Joffrey Ballet.
Ward Nipper will be sketching from opening until approximately 1 p.m. April 18th. More information about Ward Nipper can be found on the web at www.wardnipperdrawings.com  
Lulu's at the Belle Kay can be found at www.lulusbellekay.com