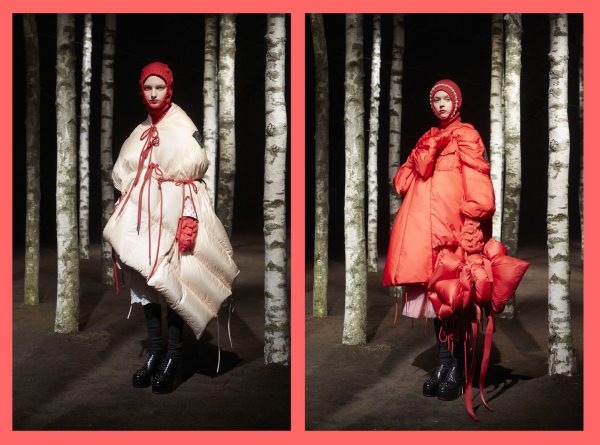 The Moncler Genius project continues and, after the collaboration a few weeks ago with Palm Angels, it is now up to Simone Rocha to reinterpret the iconic down jacket, the cult item of Remo Ruffini's brand, according to her own codes and her aesthetic taste. For the new collection, the Irish designer started with a specific image:
The set is outdoors—they are in a forest of silver birch trees—and I was thinking about Girl Guides protecting themselves against nature . . . the idea of camping and tents almost becomes their protection.
Re-elaborated by Simone, this idea of protection from the elements acquires a new romanticism: the uniforms and symbols of the girl scouts meet the pragmatism and functionality of Moncler, while shapes and volumes evoke contemporary femininity. The voluminous silhouettes are turned into capes, nylon and longue saison are enriched and refined by taffeta, PVC, tulle, floral prints, and embroidery. Pearls, a distinctive feature of Rocha's creations, appear on the logo or on knitted bonnets.
Both the central model of the collection, a down jacket with ropes that, once knotted, allow you to adjust the volumes, and the ruffled dresses and multi-layer coats are available in a palette based on white, powder pink, red, blue and black. The line made of poetic and delicate garments features moreover bags that recall sleeping bags and quilted large bags.
The entire 4 Moncler Simone Rocha collection is available now in Moncler's boutiques and on the website, as well as in multi-brand stores around the world.