NEW YORK, May 3, 2010 / — A passport to the prestigious Luxury Collection Hotels & Resorts, this limited edition set unlocks the charms of six destinations – Italy, Greece, Argentina, India, Spain, and the United States.
World-renowned Luxury Collection concierges act as your personal guide, offering an insider view of each locale's most unique restaurants, boutiques, and cultural sites. Each book features a passage and recipe from a celebrated chef including Mario Batali for Italy, Francis Mallmann for Argentina, José Andrés for Spain, and Charlie Palmer for the US.
From the finest and most authentic local restaurants to the most memorable and rewarding cultural experiences, The Luxury Collection Destination Guides
provide the key that unlocks all that is truly distinctive and unique in each of these destinations, delivering authentic and unforgettable experiences that only locals and the most seasoned travelers enjoy.
Debuting in Spring 2010, The Luxury Collection Destination Guides
Guides will be exclusively offered as a complete set at Assouline Boutiques in Las Vegas, Los Angeles, New York, as well as www.shopassouline.com and other major retail stores for $140.
Curated by Assouline, the collection is beautifully photographed by the Luxury Collection's Global Explorer, Andréa Fazzari and packaged in a vintage inspired travel box.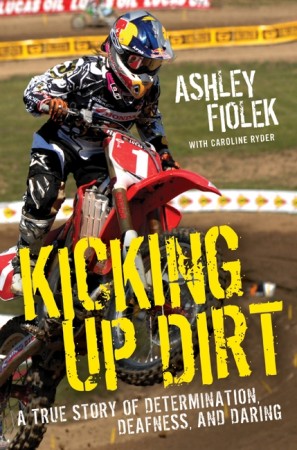 Mud and Manolos. What do a makeup-loving Los Angeles stylista and a deaf teenage motocross racer have in common? Absolutely nothing-which is why it's surprising to learn how Caroline Ryder, former style editor of Variety, came to co-author Kicking Up Dirt the memoir of 19 year old American motocross prodigy Ashley Fiolek.,
At only 5'1 and born profoundly deaf, Ashley Fiolek, winner of the 2009 X Games motocross gold medal, is one of the most remarkable athletes in America, and a new role model for American girls and women.
She overcame chronic misogyny in American motocross, not to mention her profound deafness (most motocrossers rely on their hearing to keep them safe on the track)-to rise to the top of her sport, becoming the first female in history to win full factory sponsorship, and the first deaf racer to win a motocross championship.
Kicking Up Dirt: A True Story of Determination, Deafness, and Daring