DALLAS, May 2, 2010 / FW/ — Jennifer Lopez is one busy lady. Promoting her latest movie "The Back-up Plan" in Europe, La Lopez attended a photo call at Cologne, Germany last April 30th wearing Emilio Pucci shoes from the Fall 2009/ Winter 2010 collection.
Speaking of Emilio Pucci shoes, Gwyneth Paltrow really loves her Emilio Pucci suede sandals from the Pre-Fall 2010 collection. Seen twice already wearing it, the "Iron Man 2" star was seen wearing it again during her interview on the "Late Show with David Letterman". Way to go Gwyneth!
Meanwhile in Washington, D.C., First Lady Michelle Obama chose to wear a Sutra Jewels gold raspberry tourmaline cuff to the White House Correspondents' Association Dinner at the Washington Hilton May 1, 2010 in Washington, DC.
The center stone of this beautiful Sutra Jewels piece is a raspberry tourmaline of 10 carats, flanked by rose cut diamonds in a star-burst motif and set against a hand hammered gold cuff in 18k.
Speaking of the White House Correspondents' Association dinner, Sex & the City star Cynthia Nixon also made an appearance.
Ms. Nixon was seen wearing a silver grey silk organza t top gown from the Resort 2010 Calvin Klein Collection designed by Francisco Costa, the brands' Women's Creative Director.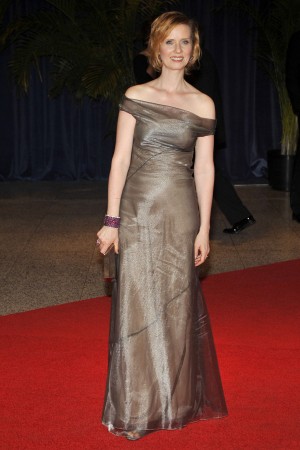 In New York, LXTV Host Sara Gore looked super chic in Yoana Baraschi while filming an upcoming segment this week.
Sara Gore co-hosts LX New York wherein explores her passion for food cooking up creative dishes with some of the country's most in-demand chefs and restaurateurs.
Still in New York, last Friday, at the Trump Soho Hotel, Lucy Sykes Rellie, Olivia Chantecaille, Alina Cho, and Melissa George, carried Ambrosi Abrianna's exotic skin clutches to the World Premiere and celebration of ULTRA SUEDE: In Search of Halston.
Ambrosi Abrianna fuses the talents of two women, Ambrosi Lim and Abrianna Jang.
Intent on creating quality products of the most exclusive nature, they collaborate to create a range of truly distinctive designs, all made from the finest crocodile, python and ostrich leathers, made by the finest artisans in the world.
Ambrosi Abrianna is available at their flagship boutique, located at 850 Madison Avenue in New York City.
www.AmbrosiAbrianna.com
[MARI DAVIS]