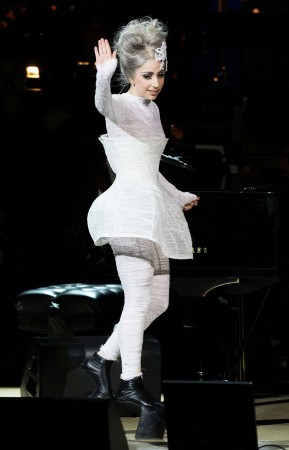 DALLAS, May 14, 2010 / FW/ — As usual, Lady Gaga caused a paparazzi mayhem when she arrived at Carnegie Hall to attend and perform at the Rainforest Fund's 21st Birthday Celebration Benefit Concert last night.
For her arrival, Lady Gaga wore a custom Calvin Klein Collection black needle punched silk taffeta seamless bustier dress.
For her performance, Lady Gaga wore a custom Calvin Klein Collection white cord inlay dress over a tulle-shell bustier dress and a knit hooded body suit.
Both custom looks were designed by Francisco Costa, the Women's Creative Director for Calvin Klein Collection.
Founded by Sting and Trudie Styler, the mission of the Rainforest Foundation is to support indigenous and traditional people of the world's rainforests in their efforts to protect their environment and fulfill their rights.
The evening's benefit concert featured performances by Lady Gaga, Sting, Elton John, Debbie Harry, and Dame Shirley Bassey, followed by a gala dinner at the legendary Plaza Hotel's Grand Ballroom.
Earlier during the week, on May 11th, to be exact, Julie Benz who plays Rita Bennet Morgan in the award-winning show "Dexter" attended the Victoria Secret's 5th Annual "What Is Sexy?" event wearing a gold Black Halo amber dress. (Available at Saks.com, $345.00)
From real life we jump to reel life…
During Monday (May 10th) night's episode of Gossip Girl, Leighton Meester's character Blair Waldorf wore an IPPOLITA Rock Candy® Large Teardrop Pendant in Amethyst. (Available at www.ippolita.com)
Now, back to real life and a big hop and skip to the West Coast…
Katy Perry, who was wearing a Mara Hoffman net back cowl dress in Guatemala violet print was seen leaving the Trousdale night club with Russell Brand in West Hollywood last Friday, May 7th. (www.marahoffman.com)
[MARI DAVIS]