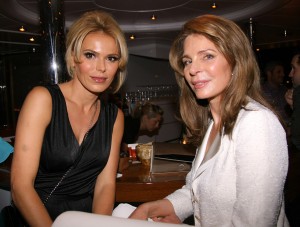 DALLAS, May 25, 2010 / FW/ — I know… I know… I already did a post script for Cannes. I don't have any excuse except that these are just too good to pass up.
During the 63rd Annual Cannes Film Festival – Palme d'Or Closing Ceremony, actress Judith Godrech wore an Emilio Pucci dress while Razane Jammal was wearing Montblanc Eclat earings and Full PAvé 4810 bangle plus 3 Montblanc 4810 white gold and diamonds rings at the amfAR gala dinner.
Earlier during the Cannes Film Festival, on Sunday, May 16th to be exact, one of the hottest parties for the weekend happened at the Neuro Yacht, where, as you expect Neuro drinks are being served!
The Neuro Drinks Yacht, hosted by Diana Jenkins, feted Participant Media producer Lawrence Bender on the eve of the premiere of his film, "Countdown to Zero," a documentary about the escalating nuclear arms race, which was shown during the 63rd Cannes Film Festival.
Guests include Diana Jenkins, Naomi Watts, Meg Ryan, Cuba Gooding Jr, Lawrence Bender, Richard Branson, Queen Noor of Jordan, Harvey Weinstein, Tamara Mellon, Melissa Odabash, Victoria Hervey, Victoria Aitken, Trace Ayala, Lindsay Lohan, Denise Rich, Valerie Plame Wilson, Dean Cain, Captain Paul Watson, Ingrid Sischy and Sandra Brant, Jeff Skoll, Dean Cain.
On other nights during the Festival: Salma Hayek and Francois Pinault, Hayden Panettiere, Vladimir Klitschko, Chris Tucker, Ludacris, Olivier Martinez, Michelle Rodriguez.