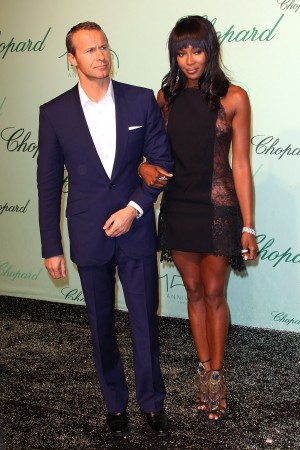 DALLAS & CANNES, May 18, 2010 / FW/ — We're still mentioning the designers first before the celebrities, so for this installment of Seen & Heard in Cannes, we have Givenchy by Riccardo Tisci, Julien Fournié, Vionnet, Jaeger-LeCoultre, Montblanc and Swarovski.
Naomi Campbell is surely doing her rounds in Cannes. Together with her boyfriend Vladimir Doronin, the supermodel attended the Chopard 150th Anniversary Party at the VIP Room, Palm Beach wearing a Givenchy by Riccardo Tisci dress.
Best known in the U.S. for her role as "Queen Claude of France" in the Showtime hit series, "The Tudors", Gabriella Wright attended the premiere of "Biutiful" wearing a Julien Fournie silver tartan dress in organza paired to an underskirt in taffeta and worn together with shoes signed Julien Fournié Couture by Giovanni Monte.
Ms. Wright accessorized the look with a Montblanc Bangle 4810 Full Pavé. Her escort, Rasha Bukvic is wearing a Montblanc TimeWalker Watch.
Film and theater actress Giovanna Mezzogiorno, who is also currently a member of the jury, loves Vionnet and Jaeger-LeCoultre.
Last May 12th, on the occasion of the press conference for the opening of the 63rd Cannes Film Festival, Italian actress Giovanna Mezzogiorno wore a black silk jersey and midnight blue crêpe de chine dress and black suede sandals with gold leather trim from the Vionnet Spring/Summer 2010 collection accessorized with Watch Jaeger-LeCoultre Master Twinkling Diamonds.
And for the formal opening ceremonies of the 63rd Cannes Film Festival, Giovanna Mezzogiorno change into a custom powder-colored crêpe de chine Vionnet dress and a clear plastic bag with metal studs accessorized accessorized with a Watch Jaeger-LeCoultre JOAILLERIE 101 1938
British actor Matthew Macfadyen, best known role as MI5 Intelligence Officer Tom Quinn in the BBC series, "Spooks", who also plays the Sheriff of Nottingham in Ridley Scott's "Robin Hood" starring Russell Crowe wore a Jaeger-LeCoultre watch in one of his appearances in Cannes.
Hong Kong actress Fan Bing Bing, who is also the new L'Oreal ambassador looked sexy and innocent at the same time in her bustier dress accessorized with a Swarovski "Film" bag.
French actress Audrey Lamy, best known for her role as "Marion" in the French television series "Scènes de Ménages" selected a Swarovski "Mybag" star collector bag and the "Glamour" earrings and bracelet for the red carpet.
[MARI DAVIS]