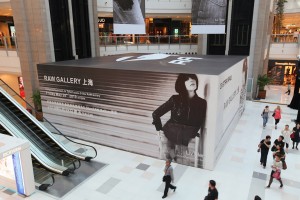 DALLAS & SHANGHAI, May 31, 2010 / FW/ — As Americans prepared for barbecues and the beach, the Chinese were welcoming Liv Tyler and G-Star Raw Gallery, a mobile open access pop up gallery that showcases G-Star products and tells the brand's story.
Formally opened last Friday, May 28th by Liv Tyler, the current face of G-Star who cut the ribbon, the G-Star Raw Gallery was at the Grand Gateway shopping mall in downtown Shanghai until May 30th.
The immediate visual impact generated by the in-house made glass pavilion symbolizes accessibility and gave the Chinese audience the opportunity to discover and experience the world of G-Star.
The RAW Gallery showcases G-Star's proprietary Arc denim styles, collection pieces from the high-end RAW Essentials collection as well as the female Low-T collection, a special collection inspired by Liv Tyler.
G-Star's craftsmanship is further highlighted via special custom made denim Tool Jackets and through a three panel Reading Wall which shows the full G-Star brand story.
Previously, the RAW Gallery showcased G-Star's denim craftsmanship at Tokyo Designer's Week in 2008 and 2009. In June 2010, directly after it is shown in Shanghai, the RAW Gallery will travel to trade fair Pitti Immagine Uomo in Florence, Italy, where it will be used as a presentation space for the new Spring/Summer 2011 collection.
The Grand Gateway shopping mall in the Shanghai's Xujiahui area also houses a permanent G-Star store in the basement, and sits in a vast dome at the base of the Grand Gateway, which is made up of twin 52-storey skyscrapers built in 2005.
Besides the store in Grand Gateway, G-Star has 30 franchise stores in China and can be found in 134 multi-brand stores.
[MARI DAVIS]
Photos courtesy of G-Star