Francesca Versace and Eva Herzigova attend the launch of the first Convivio boutique at Fidenza Village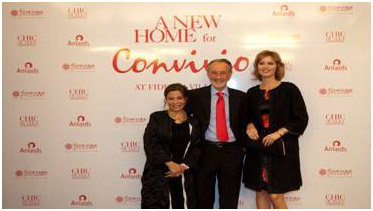 MILAN, Oct 20, 2010 / — To celebrate the launch of the first ever Conivio boutique, at Fidenza Village in Milan, over 400 of fashions elite attended a cocktail reception hosted by Desiree Bollier- CEO Value Retail Management, Prof. Mauro Moroni- President Anlaids, Lombardia and Franca Sozzani- the Creative Director of Convivio.
Celebrities including supermodel Eva Herzigova, Francesca Versace, Antonia Dell' Atte, Melba Ruffo Di Calabria, and Elio Fiorucci previewed the new boutique which opens to the public today.
Founded by Gianni Versace in 1992, Convivio is recognised as the most important charity in Italy supporting ANLAIDS, which works tirelessly to promote positive behavior as a means to prevent the spread of AIDS.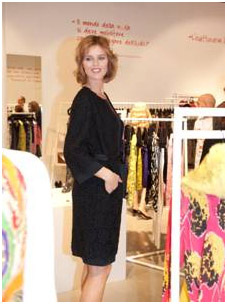 "I was delighted to attend the launch of the Convivio boutique at Fidenza Village last night. It's a great store with some amazing pieces to buy. I believe it will really help raise more awareness and financial support to the AIDS research. It was such a special evening and one of which Gianni would have been immensely proud," said Eva Herzigova
The Convivio boutique at Fidenza Village stocks an eclectic mix of ready to wear and accessories, vintage fashion and home decor donated by some of the most famous brands and personalities in the worlds of fashion and entertainment: Armani, Versace, Balenciaga, Byblos, Ballantyne, Calvin Klein, Costume National, Escada, Fendi, Gianfranco Ferrè, Roberto Cavalli, Moschino, Salvatore Ferragamo, Camera Italiana Buyer, Ermanno Scervino, Dolce & Gabbana, Etro, Iceberg, Marc Jacobs, Valentino and some very special pieces including items worn by Eva Herzigova, Lady Gaga, Alanis Morissette and Julianne Moore.
Prices will be reduced by up to 50% off the original retail price, and all proceeds will be donated to ANLAIDS. Further injections of new stock to the boutique will follow in the months of November and December, adding to the treasure trove of truly original gifts just in time for Christmas.
Through the launch of the Convivio boutique at Fidenza Village, operators Value Retail will introduce the work of Convivio, in its 10th anniversary year, to a whole new audience in a move that will sustain the excitement of the famous Milan based shopping biennale for which Convivio has become recognized.
www.chicoutletshopping.com