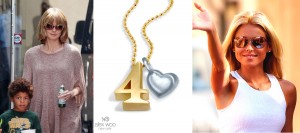 DALLAS, May 5, 2010 / FW/ — On Mother's Day, about 26.2% of us will be buying Mom jewelry for her special day, according to the National Retail Federation.
With Mother's Day less than a week away, now is the perfect time to shop for lasting and meaningful gifts for Mom.
Taking a cue from top celebrity moms, World Gold Council (WGC) has compiled some of the best personalized gold jewelry gifts to honor moms of all styles and ages.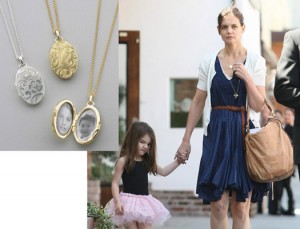 Take a look at some of the top gift ideas for Mom's this Mother's Day, in a wide variety of price points and styles:
Heidi Klum and Kelly Ripa are fans of Alex Woo's Little Numbers (to signify the number of children) and Mini Addition Hearts. Prices in 18K gold start at $498.
Mary Louise Parker wears Mauri Pioppo 18K gold Love Letters as constant reminders of her children.
Sheryl Crow sports a Touch Love Braille pendant in warming yellow gold for tactile reminders of her loved ones.
18K yellow gold Love Letters retail for $495 for singles and $675 double initials. 18K gold Touch Love pendant necklace starts at $900 and can be customized.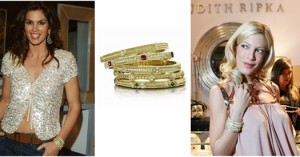 Katie Holmes and Halle Berry are devoted to Monica Rich Kosann and her 18K gold lockets, which hold sentimental pictures of their children.
Katie's locket: 18K gold is $2,950. Halle Berry's Gate necklace in18K gold is $4,900.
Nicole Richie and Victoria Beckham wear Carolina Bucci's friendship bracelets, made of 18K gold and silk, $590 each; they come in 19 different colors of silk.
Each color comes with its own charm and meaning.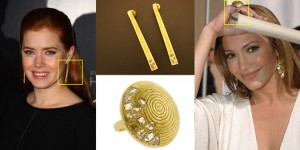 Tory Spelling and Cindy Crawford flash their Judith Ripka Romance Bangles as fashion statements and as odes to being stylish moms.
18K gold bangles with diamonds & gemstones, start at $2,300 each.
Mother of twins Jennifer Lopez and film star Amy Adams both wear Coomi.
J Lo prefers the Sanctuary ring (an ode to peaceful moments) in 20K yellow gold with rose cut diamonds, $8,500.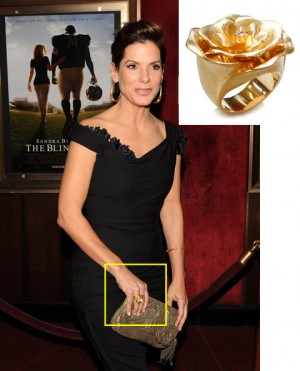 Amy goes for the eternity stiletto earrings (honoring longevity of great style) in 20K gold with rose cut diamond accents, $7,500.
New Mom Sandra Bullock loves this floral ring design to symbolize beauty that never dies by Carla Amorim: Rose Ring in 18K yellow gold and diamonds, $6,900