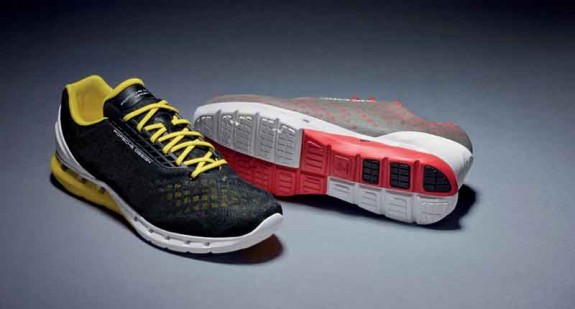 Originally launched in 2006, Porsche Design Sport is the collaboration between adidas and the luxury brand Porsche Design. Since then, the brand has come to stand for a contemporary, minimalist look and innovative materials.
Porsche Design Sport continues to make award-winning strides with its signature mix of modern, minimalist design and maximum performance features. Indeed, Porsche Design Sport has won three prestigious Plus X Awards and Red Dot Awards for Fall/Winter 2014.
Porsche Design Sport's exclusive, ground-breaking BOUNCE™ technology is entering its fourth generation for Fall/Winter 2014. The new BOUNCE™:S4 men's running shoe sets new standards in fit, feel and function.
Cited for "High Quality", "Design" and "Ergonomics" as well as for the special distinction "Best Product of the Year" by the Plus X Award and for "High Design Quality" by the Red Dot Award, its futuristic design, simplified construction and high tech materials deliver an extremely smooth, dynamic and lightweight running experience.
Key features include a high-tech carbon fiber plate in the heel that increases stability but cuts weight, and the streamlined full mesh upper also helps the new BOUNCE™:S4 weigh about 20 percent less than its forerunner.
With a very progressive look, the reduced leaf spring sole construction really propels the shoe forward and also improves touchdown, while airflow is enhanced by the upper's aerodynamically-inspired embossed lines.
For further information about Porsche Design Sport see: www.adidas.com/porschedesign and www.porsche-design.com.