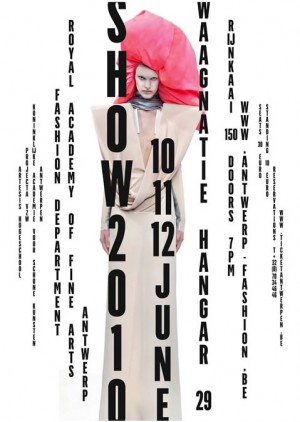 Antwerp Fashion Department Graduation
ANTWERP, May 6, 2010 / — On June 10th, 11th and 12th 2010, the Antwerp Fashion Department, Artesis Hogeschool presents its annual fashion show at Hangar 29 in Antwerp.
The annual graduation show of the Fashion Department, Artesis Hogeschool Antwerpen is a celebration of fashion, bringing together some 6,000 spectators from all over the world, not only to judge and/or admire the collections of our students, but also for the unique atmosphere of this grand defilé.
Once a year, the building is filled with friends, fashion enthusiasts, manufacturers, former students, fashion designers, styling agencies, culture buffs and the press.
The show is repeated three evenings in a row. Students from all four years show their work on the catwalk. An international jury of experts in fashion and creativity judge their collections & installations.
SHOW 2010
June 10, 11 & 12
Hangar 29, Rijnkaai 150, 2000 Antwerp
Doors: 7PM – Start Show: 8PM
Tickets for sale from May 7th
€30,00 (seats) / €10,00 (standing)
Presale at www.ticketantwerpen.be or +32 (0)70 344 646
More info: www.antwerp-fashion.be
***
Adrian Grenier & Peter Glatzer Open SHFT Pop-Up Gallery and Shop
LOS ANGELES, May 6, 2010 / — Actor/activist Adrian Grenier and film producer Peter Glatzer are proud to announce the opening of the SHFT GALLERY and Pop-Up SHOP in Downtown Los Angeles. The SHFT GALLERY is located at The Continental – 408 South Spring Street in the Gallery District in Downtown Los Angeles.
On Thursday, May 13th the SHFT Shop will open during Downtown Artwalk. SHFT will celebrate with an official opening night party on Saturday, May 15th from 7:00 – 9:00pm.
The shop and gallery, curated by SHFT and Edie Kahula Pereira, is a collection of sustainable designed products with over 50 pieces of art-work by Los Angeles based artists. Some of the featured artists in the gallery include: Tierney Gearon, Jay Mark Johnson, Lauren Bon, Rebeca Mendez, Ramon Coronado, Jay Mark Johnson, to name a few.
As part of SHFT's launch, Shepard Fairey's Studio Number One designed a SHFT water bottle with 10% of the proceeds going to water.org. All of the items at the SHFT shop will be available at online at www.shft.com
Additionally, on May 15th, 2010 SHFT will launch its second installment of its original web series, LIGHTEN UP, which follows bands as they reduce their carbon footprint while on tour. These episodes feature the DAVE MATTHEWS BAND and EDWARD SHARPE AND THE MAGNETIC ZEROS. The first episodes featured BRANDI CARLILE and Adrian's band THE HONEY BROTHERS.
The series is featured on www.shft.com and will be distributed widely on a platform of websites and is produced by SHFT and Stonyfield Farm.