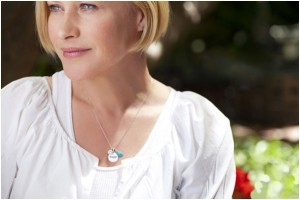 Patricia Arquette Teams with Satya Jewelry for Haitian Relief
NEW YORK, May 1, 2010 / FW/ — "Medium" star Patricia Arquette has teamed up with Satya Jewelry to offer a specially designed Hope, Love & Healing for Haiti necklace, donating 100% of the proceeds to Arquette's charity, Give Love (www.givelove.org), which is supporting ongoing relief efforts in Haiti.
To help raise funds for Haiti, Satya designed a sterling silver triple pendant necklace – with hope and heart pendants, and a turquoise stone – strung to an 18-inch, silver chain. Turquoise is the stone of healing.
"The Hope, Love & Healing necklace is the perfect embodiment of what we are trying to bring to Haiti: Hope through safe and sustainable housing, sanitation solutions, and water filtration devises. Our long term hope is that we can create replicable models that can be used in underdeveloped area all over the world", says Patricia Arquette.
To initiate this endeavor, the company donated $20,000 in March to Give Love through the Satya Foundation and will continue to raise money in the months to come.
100% of the proceeds from the Hope, Love & Healing for Haiti necklace will go toward Haitian relief via Give Love (www.givelove.org). The necklace costs $38 dollars and is available on the Satya Jewelry website, http://satyajewelry.com, and in all Satya jewelry stores.
***
Alberto Lavia Leaves Façonnable
NICE, May 1, 2010 / FW/ — Yesterday, Façonnable announced the resignation of Alberto Lavia, effective May 30th, 2010 as CEO of Façonnable International SAM.
During his two-year tenure, Alberto Lavia has been key for the re launch of the brand and the strategic development of the organization as well as the repositioning of Façonnable as a major player within the international fashion arena.
Alberto Lavia has decided "to pursue personal endeavors and relocate back to Italy", his native country, the short announcement said.
***
Fashion Show is Main Attraction at the Karmanos Cancer Institute's Annual Dinner Gala
DETROIT, May 1, 2010 / — Guests attending the Barbara Ann Karmanos Cancer Institute's 28th Annual Dinner Gala on Saturday, May 8, at the Rock Financial Showplace, will be dazzled by a stunning fashion show designed by creative icon Linda Dresner.
The native Detroiter, world-renowned fashion maven and breast cancer survivor has planned an exciting fashion program that will have attendees feel as if they were in New York or Europe. Guest tables will serve as runways as more than 40 models will stroll showcasing the latest fashions, complete with hair designs and makeup.
In addition to the fashion show, the Annual Dinner gala will include a reception, elegant dinner, a super silent auction, and a raffle sponsored by Tiffany & Co.
TO ATTEND: Ticket prices range from $375 to $750. Reservations will be accepted up to the event. For more information call Karry Samulski at 313-576-8106 or email samulskk@karmanos.org.