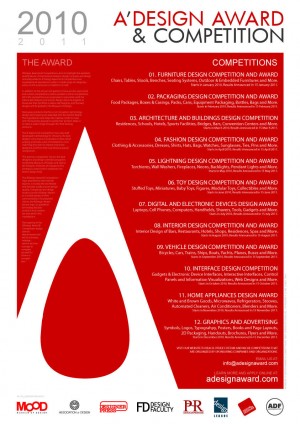 MILAN, Jun 10, 2010 / — The A'Design Award and Competition is for designers, innovators and companies that want to highlight themselves to attract the focus of media, publishers and buyers.
The mission of the A' Award and Competition is to provide a fair, ethical and competitive platform for companies, designers and innovators from all fields with different experience levels, different disciplines and market focus to compete on, while providing them a global audience to showcase their success and talents to.
In a world where there are millions of products and designs launch each year, the award was born out of the desire to underline the best designs and well designed products. The award-winning products and designs are highlighted to the international public in the A' Design Museum and Gallery in Italy and they are communicated to all relevant press across the world.
Winner Designers of A'Design Award receive the following benefits and exposure:
1. Featured in the yearly ResultBook
Top designs are featured in this yearly book to increase the exposure of designs and products to a wider public. These yearly ResultBooks are delivered to a wide range of professionals, design oriented companies and press members.
2. Communicated to the Press
Extensive coverage in global media ensures that you are reknowned worldwide. We provide free services to prepare your press releases to communicate to a worldwide audience furthermore we also help you to find services for custom press release preperation in addition to the ones we deliver.
3. Advertised to a Wide Range of Design Sensitive People
In addition to standard press and traditional media, A'Design Award & Competition advertises winners in online media and search engines as well to millions of people who are searching for design. We have a large dedicated budget to reach millions of people every year.
4. Introduced to Companies
Winning designs are introduced to relevant companies. Winners find the opportunity to meet with the industry and businesses. Some winners will have the opportunity to be supported and mentored by industry leaders and large players in the design field. Meeting with the companies usually lead to eventual realization of concept or idea-stage designs, or finding new distribution channels for existing products.
5. Certificate of Quality
The "A' Design Award Winner Certificate" is a proof of quality of design which you can use to highlight the qualifications of your designs. Winner Designers can download the "A' Design Award Winner Logo" and use this special logo with their product packaging or websites.
6. Trade Fairs, Conferences and Meetings
The A'Design Award will also present itself in design oriented trade-fairs around the world, winners will got chance to be promoted in these fairs, conferences, meetings and other design related events in order to create the sectoral hype.
7. Introduced to Design World
Winners are introduced to Curators, Architects, Designers, Companies, and other relevant people and institutions in the design world to get more out of the award. Special notifications are send to the Museum Directors, Academicians, Media Directors and Design Departments of Multi-National Companies.
8. A Reason to Contact Press
Winning the A'Design Award, is prestigious, it is a very solid reason to contact the press and have increased exposure of your designs and products around the world and we provide free PR and press-release services to winners.
9. Realization Possibilities
Winner designs are very likely to be realized by thousands of companies that are following the competition each year, the winners are communicated early so that they can make an early patent rights application right-away.
10. Increased Sales
Winning designs get enough exposure to increase the sales of products significantly; it is an investment that you can rely on throughout the life of the product. More fame means more business.