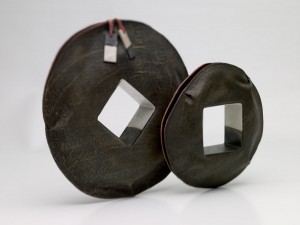 MILAN, Jun 10, 2010 / FW/ — What's More Alive Than You (WMATY), a new kind of collective composed of university students of art, architecture, interior and fashion design from 92 countries and professionals from the fashion and design industries as well as those who, regardless of age, have good ideas and wish to see them realized and rewarded.
From the first creative call last July 2009, 15 designers were selected. One of them is Akiko Tanakashi who submitted the "MYJABA MONEY BAG".
Born in Tokyo (1979), Akiko Tanakashi was inspired by an ancient Japanese coin to create a purse that you can carry like a bracelet.
The shape is not exactly circular but it is drawn on paper and transferred on the material which, in the original version, becomes the bark of tree, used to give more value to the sculptural aspect of the artwork.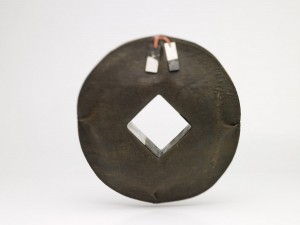 This simple and essential money-bag was made focusing on the processing of the materials. The bag turns around a bracelet made of burnished aluminum and half covered with a bath of silver 925. The bracelet is all handmade to get a rough and aged appearance and then silvery and tumbled to round every edge off in an irregular way.
The tabs of the slide are made of a thin sheet of burnished and silvery aluminum one by one by hand.
The body of the bag is a special bark which comes from Uganda.
The material is taken stripping the trunk of the tree to obtain strips of material. Then these are assembled together to form panels of a size that these can be used both for accessories, clothing and furniture.
As for the cork trees, these plants regenerate the bark and then the process repeats itself. The type of bark used for MYJABA was coated with a special latex material in order to provide good resistance to water and to abrasion.
The bag has two dimensions both wearable on wrist as a real bracelet, and the Big one, has also a leather lace that allows you to carry as clutch or on shoulder. You could wear it in a unique way keeping the bracelet as the Discobolus would like.
The Myjaba Money bag is available at www.wmaty.com