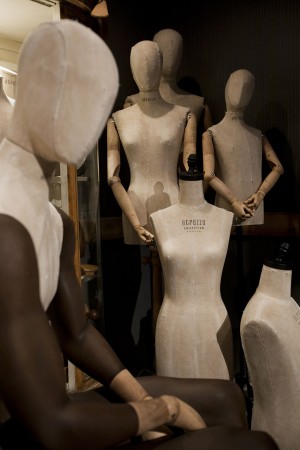 BARCELONA, Jun 17, 2010 / — Looking back starts to make sense; history is our new toy. Craftsmanship is the antidote for over flooded look-alikes, saturated minimal looks and uncertain future trends.
With the Antique Collection, Atrezzo re-discovers its own history again, its origins, traditions and experiences transmitted and developed from generation to generation
Olot, a Spanish city where Atrezzo´s factory is located, very close to the French border, is a city of crafts, full of workshops dedicated since 1877 to the art of textile printing, painting and religious imagery. The tools, casts, materials and techniques used in these workshops are similar to the religious imagery ateliers in Saint Sulpice, Paris
Atrezzo counts with 150 workers, among them some direct descendents of those pioneer artists, sculptors. With their crafty spirit they have awaken a fascination in the making of the Antique Collection.
This Collection encompasses old busts covered in distressed linens (natural threads with over 200 years of antiquity) customized by hand. The legs are made of an eco resin (a environmentally friendly material) painted and worn out by hand, creating the sensation of natural distressed wood. The vintage touch is given by the lime tree wooden arms soaked in water based varnishes to give the wood a dull washed out look.
For more information, please contact:
Atrezzo: Tel: (+34) 93 487 61 64
www.atrezzobarcelona.com