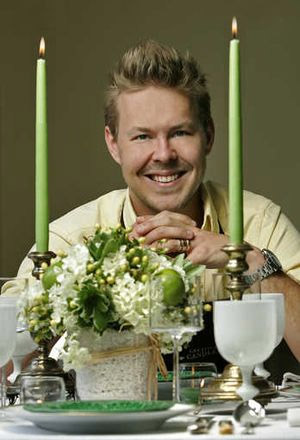 CHICAGO, Jun 10, 2010 / — Celebrity decorator Eddie Ross will travel to Chicago in June to make a special appearance at one of the country's most unique vintage events, the Randolph Street Market.
Known for his energy and flair for consistently creating elegance tailored to a variety of tastes and budgets, Ross has worked with and appeared on and been featured in a number of popular television shows, networks and publications including Martha Stewart Living, House Beautiful, HGTV, the New York Times and the Food Network.
"Eddie Ross is known to be able to bring the right items together to create anelegant table setting, an inviting room or vibrant party décor," says Randolph Street Market Director Sally Schwartz. "We're looking forward to such a great array of dealers at the June event that whatever Eddie comes up with will be particularly appealing because he'll have the best to choose from."
After an appearance on season two of Bravo's Top Design, Eddie left the publishing world to start a lifestyle company, along with partner Jaithan Kochar.
Based in upstate New York, Eddie Ross, Inc. offers interior design and styling services, event production, and an online boutique for vintage tabletop and giftware. Together, Eddie and Jaithan also produce a daily blog at eddieross.com with inspirational tips and information on how to decorate and entertain both beautifully and affordably.
Ross will be at the Randolph Street Market the weekend of June 19-20.
Photo courtesy of Eddie Ross