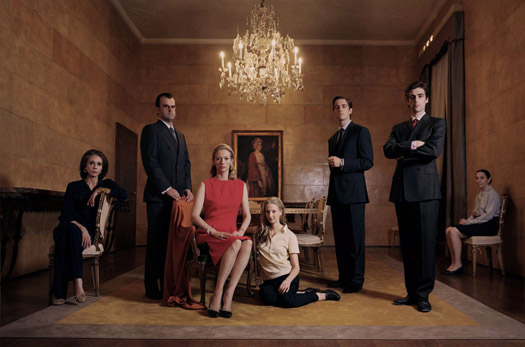 DALLAS, Jun 8, 2010 / FW/ — An Italian filmmaker director "I am Love" that is set in Italy, and tells the story of a fashion family which is expanding their empire into food and wine.
Does it sound as it is almost based on a true story? Perhaps…
Presented at the Toronto Film Festival, Venice Film Festival and Sundance Film Festival, I AM LOVE has caused a stir in the international cinema scene due to its beautiful Italian landscapes, amazing food and of course its haunting fashions.
Filmmaker Luca Guadagnino worked with both Silvia Venturini Fendi on all the men's clothes, creating tailor-made outfits for each actor, as well as with Raf Simons for Jil Sander who designed all of Tilda Swinton's outfits.
Raf Simons work is deeply immersed in the plot, extracting elements from his former collections to create stunning collaborations with Tilda and forming a partnership not seen in recent cinema history. Raf and Tilda's fashion collaborations recalls the partnerships of designers and actresses from the 60's, such as Yves Saint Laurent and Catherine Deneuve.
Opening in theaters on Jun 18th, I AM LOVE revolves around the wealthy Milanese Recchi family whose main business is textiles. When the torch of running the family business is passed on to the next generation, different goals emerge and personalities collide.
But, that is just a side story, because I AM LOVE is first and foremost and love story, albeit a tragic one. A deeply talented cast led by Tilda Swinton, Flavio Parenti and Edoardo Gabbriellini and masterful direction by Luca Guadagnino, the audience becomes involved with the characters and follows them as they struggle with the forces of passion and unconditional love.
I AM LOVE opens in theaters June 18, 2010.
[MARI DAVIS]
Photos courtesy of Magnolia Pictures