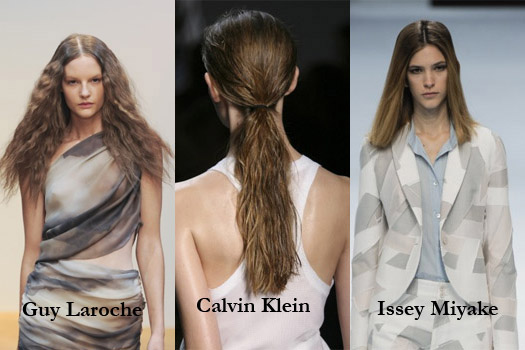 DALLAS, Jun 16, 2010 / FW/ — From bouffant hair to the beehive; ponytail to braid and then from bed head to round head, there are as many hairstyles as there are trends on the runway.
At Calvin Klein Collection, Francisco Costa chose pony tails to complement the modern minimalist silhouettes which is the DNA of the brand. It is a very easy look to steal but you have to make sure that your skin is flawless and protected from the sun because with ponytails, your face is exposed from all angles.
At Guy Laroche, Marcel Marongiu that crimped hair which is parted at the middle is the best way to show off the ethereal gowns that could be worn by a Shakespearian nymph. Again, the style is a very easy look to achieve with your ghd styler available at www.ghdhair.com
At Issey Miyake, Dai Fujiwara likes hair straight, parted at the middle and reaches your shoulder. Minimalist like Calvin Klein Collection and an easy hair style to maintain.
Lie Sang Bong, John Galliano at Christian Dior and Toni Maticevski have different vision for your crowning glory though.
At Christian Dior, John Galliano sees women as silver screen sirens, their shoulder length hair curled and puffed out. Again, this look can be achieved with your ghd styler with a minimum of fuss.
Toni Maticevski went for the classic beehive while Lie Sang Bong chose an up do that shows off your face while keeping your hair neat the whole day.
Perhaps, the hardest look to achieve is AF Vandevorst's bed hair. Puffed out and teased like a beehive, you can still do this look but you might need the help of a friend.
While AF Vandevorst might be a challenge, Alena Akmadullina with the very short bob is the easiest and requires minimum of fuss. You can even air dry your hair.
And finally, Oscar de la Renta made braids in again.