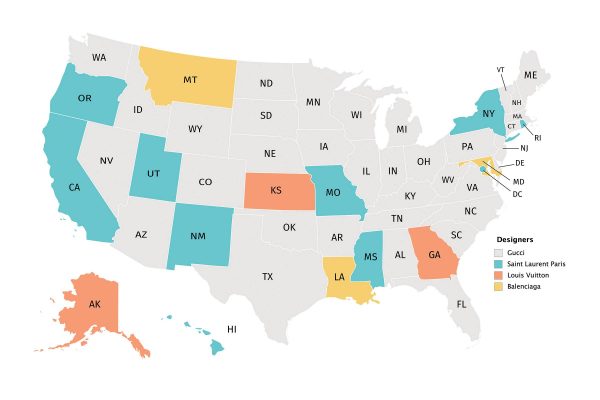 One of the most active sectors in the industry is "luxury fashion." From the multitude of monograms to the (in some cases) centuries-old traditions,  luxury brands are the names that one is most likely to think of when someone mentions "High Fashion."
For those looking to understand what we mean by "luxury brands",  this includes notable fashion houses like (but not limited to): Balenciaga, Balmain, Cartier, Chanel, Dior, Dries Van Noten, Fendi, Givenchy, Gucci, Hermès, Lemaire, Loewe, Louis Vuitton, Maison Margiela, Prada, Raf Simons, Saint Laurent Paris, Thom Browne, Tom Ford and Versace.
The above map shows the top luxury brand in each of the 50 United States, based on the total GMV (short for gross merchandise value—effectively, the "total dollar value of sales") from May 2019 to April 2020.  Even with a diverse selection of luxury brands available on the global marketplace, it's clear that there's a small selection of top performers.
While this is far from stating what the "best" luxury brand is (you'll have to determine that yourself) it's interesting to see how creating a dominant visual style is crucial to becoming a major luxury player. From Michele's playful vision at Gucci, to Slimane's signature rocker style, to the timeless appeal of the Louis Vuitton monogram or the off-kilter "anti-fashion" approach of Gvasalia's Balenciaga, it's clear that having perspective is crucial to dominating the crowded luxury space. Other brands that didn't take the top spot but did appear in our data set included Dior, Maison Margiela, Prada and Raf Simons.