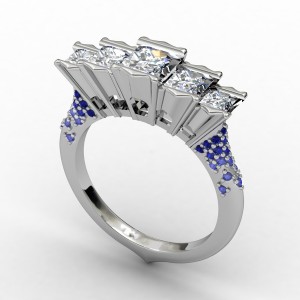 DALLAS, Jun 18, 2010 / FW/ — With her work often referred to as the "Westwood, McQueen or Galliano of British jewellery", Jasmine Alexander has already become a fashion darling in just two years since she launched her eponymous jewelry label.
Entering the fashion scene in 2008, Jasmine Alexander's jewellery has been hailed as "exquisite, astonishing and avant-garde, and the designer cited as "the London non conformist that challenges the modern perceptions of jewellery."
Having just returned from Couture Las Vegas where successfully launched her collection "Victus", Jasmine Alexander found time to interpret her work us.
« FOR LOVERS »… the world is a stage
Soft architecture proffering powerful notions.. of love, of adventure, of romantic literary sentiments, all beneath the mysterious cover of evening.
This piece borrows it's structure from ancient and modern theatre houses, with a series of arches allowing light to play within its tiered diamond roof… each stone is delicately held by a 'balcony', whose curtains cascade down around it's arched doors, the entire 'stage house' is then held by the shoulders that are scattered with fine sapphires, graduating from light ot dark, hinting at the coming of evening.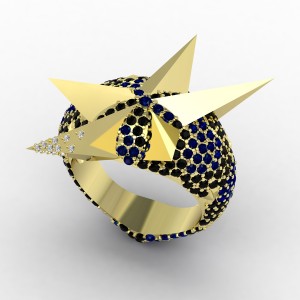 Its title borrows from the romantic notions of Shakespeare.
« REVOLUTION »
Rock n roll chic? Rebellious decadence? Discerning luxury of the notable insurrectionist?
Every war, every love, every discourse and every revolution differs depending upon where one exists emotionally, geographically or intellectually…
Though we are in effect the same moment, the same consciousness, the same revolutionary stars..
As with this piece, each singular spike placed at differing levels… different points, depending on view, but, like an optical illusion, bring it into a perfect bird's eye view and we have the perfect dramatic revolutionary's star..
The shank, scattered with inverted smaller stars… and as if emerging from evening, into a new dawn.. it comes forth from a condensed array of black diamond and dark blue sapphires, keeping an artists perception of night… a full brilliant revolution of princess cut diamonds cuts through the star, the night… and the shank completes as if a metaphorical 'full stop' with it's 'point made', in the soft shank base point…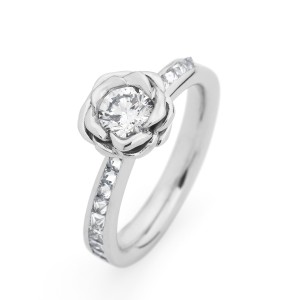 « THE ROSE»
The consummate and most elegant gesture of love, of ever; a single, perfect and pure white rose.
As would the leaves in a singular wrapped rose, when given to a lover, the Rose collets is adorned with low relief upturned leaves with curved stems, all pointing upward, creating a plinth for the petals as they gently fall outward, the petals centre softly holding a pure and brilliant diamond…
The rings shoulders are channeled with inverted, graduating princess cuts, representing the thorns, the diamonds are then set traditionally rolling down the side of the ring, for comfortability…and finally, for conceptual and aesthetic perfection, the ring's base has a soft and slight point, the rose stem.