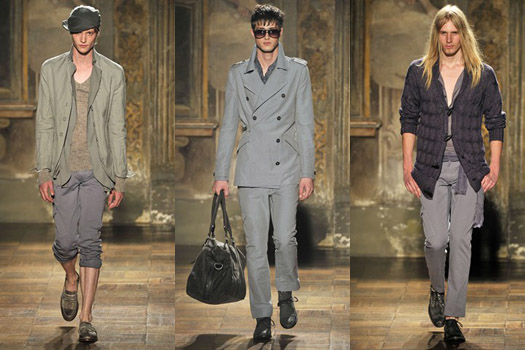 MILAN, Jun 20, 2010 / FW/ — If Dan Humphrey, Nate Archibald, Chuck Bass and Rufus Humphrey ever decide to live in the country, then, John Varvatos is their man. The New York-based designer just proposed country gent clothing for the sophisticated Manhattan elite.
Elegant with a relaxing mood, the John Varvatos Spring 2011 collection is made of lightweight pieces. The trousers cut wide enough that you can actually roll them up to your knees.
The look is precise but never stiff or formal. The vest, available in several versions, is proposed in the same fabric as the trench coat for chic layering. Even Dan, Nate, Chuck and Rufus could not ask for more.
Alright, Dan, Nate, Chuck and Rufus might just be fictional characters from Gossip Girl; but we have to accept that in pop culture they are this generation's Cary Grant when it comes to urbane dressing. And John Varvatos is the real life designer who can make them look good even if they are feeling rustic.
[SARA CONDE]