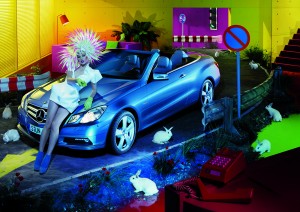 BERLIN, Jun 22, 2010 / FW/ — Shot in Berlin last May by cult photographer Miles Aldridge, the Mercedes-Benz fashion campaign in support of the Spring / Summer 2011 collections features the Mercedes-Benz E-Class Cabriolet and Milla Jovovich.
The Mercedes-Benz E-Class Cabriolet, Milla Jovovich and a custom designed hat by Philip Treacy all joined forces to create a compelling image that underscores the campaign theme, "Express Your Style".
The vivid colours that are characteristic of Miles Aldridge's work reinforce the visual motif: the convergence of modern design and artistic freedom. Aldridge confidently plays with the themes of personality and self-expression.
"Fascination and individuality – that.s the connection between Mercedes-Benz and high-caliber fashion design. The Mercedes-Benz Cabriolet embodies a particularly elegant and unique design. That's why we brought together our new E-Class Cabriolet, the exciting Milla Jovovich and an extravagant hat by Philip Treacy to portray these properties in our current visual motif," explains Anders Sundt Jensen, Vice President Brand Communication Mercedes-Benz Cars.
The Mercedes-Benz E-Class Cabriolet stands for individuality and expression. The car captivates everyone with its innovative technology, sustainable mobility and graceful silhouette. In accordance with the principle, "four seasons, four passengers", the AIRCAP® wind protection system can be activated at the push of a button. This considerably reduces air turbulence in the interior. Similarly, the AIRSCARF® neck warming function means that riding in a Cabriolet is now possible during all seasons.
Miles Aldridge's dreamlike photography is always suggestive of colorful narratives from life's rich tapestry. "From the start I liked the idea of doing a shoot with the E-Class Cabriolet. To me, the car is a luxurious design object, a smooth hermetic machine. I think it's amazingly photogenic, and it fits into the picture perfectly," says Miles Aldridge.
Milla Jovovich is the convincing personality that fronts the campaign. As a multi-talented female figure – model, actress, singer, and fashion designer – her easy elegance and natural confidence personifies individuality.
"I've never really worked on a campaign with a car as co-star before. The challenge is to not let the E-Class Cabriolet steal the show, so I really have to make an effort," she said, laughing during the photo shoot.
Philip Treacy specifically created a hat for the Mercedes-Benz campaign. It is made up of 300 feathers that have been individually shaped and painted with "road markings".
As he explains, "The idea for the hat developed whilst working with Miles. I thought that an extravagant hat would be perfect for the image. Hats express individuality, an extreme form of luxury and this symbolizes a positive outlook."
The new campaign theme will premier at the Mercedes-Benz Fashion Week in Berlin from July 7-10, 2010.
Mercedes-Benz Fashion Week Berlin Spring 2011