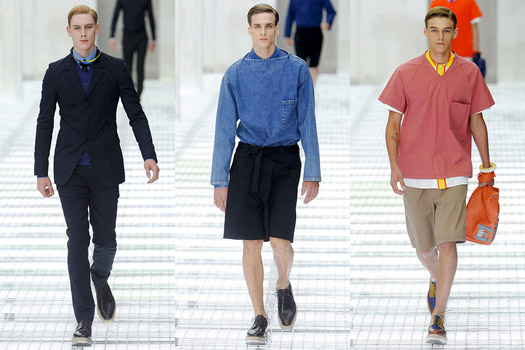 MILAN, Jun 21, 2010 / FW/ — As a fashion critic, one of the attractions of menswear for me is that it is about the tailoring, the cut, and the little details on the garment rather than the pizzazz that usually surrounds womenswear.
Hence, seeing Miuccia Prada's decision to concentrate on these qualities more than just piqued my interest; it literally titillated my imagination.
Miuccia Prada was never a trend follower; she actually creates them. And what she gave us for Spring 2011 is denim!
Yes… denim, which once upon a time was working class clothing but was elevated to high street fashion during the 1980s and now, Miuccia Prada reinvents it and reintroduces simply as itself – clothing that can be used everyday which like your favorite jeans becomes a part of you.
But, don't even think for a moment that Signora Prada has turned into a cliché. Her denim proposals are seen on tunics and hospital scrubs… yes… like what you see medical professionals wear.
There are also the walking shorts and of course the requisite jeans. And, we also see a jacket or two done in denim!
[SARA CONDE]