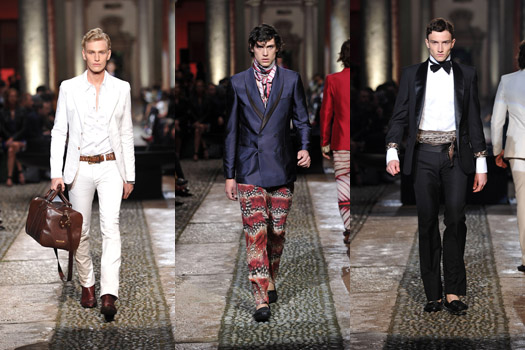 MILAN, Jun 21, 2010 / FW/ — Inspired by a recent trip to Indonesia, Roberto Cavalli used the lush colors of the tropics for his color palette and created his own vision of batik prints that he used as highlights for the suits and jackets that he proposed for Spring 2011.
Entitled, "The Pleasure of Dressing Like a Man", Roberto Cavalli said in his press notes, "A man has to be a man … with a pinch of fantasy to emphasize his individual personality. I'm a man – no longer super-young and today I'm proposing to you what I would wear … and what my son would wear too."
And with that he began his optimistic vision of spring… color and print mixed with light and dark colors, always tending towards harmony and elegance. The total black aspires towards color, lighting up with shimmering iridescence and has always approached by a small detail of color.
The print becomes the new male accessory. The double-breasted black jacket is paired with the silk "animalier" printed 'sarouelle' pant. The jacket sleeves are rolled up, revealing a printed lining like the pants.
The black tuxedo has the jacket 'revers' embroidered in silver and is worn over a silk shirt printed, maintaining the traditions codes.
The suede suit is enriched by 'sequins' details, in the same material, applied and stitched by hand or with long fringes. The blouson made of natural crocodile leather is live-cutted and stitched by hand on red suede Bouganville.
It is a decisive vision stemming from the tuxedo, symbol of masculine elegance, in denim or in suede, to get to the more traditional, in mohair, tailor-made. The shirts, in lightweight silk crepe, are printed and embellished by 'plastron' embroidered or plated, made of jacquard 'animalier' silk.
[MARI DAVIS]