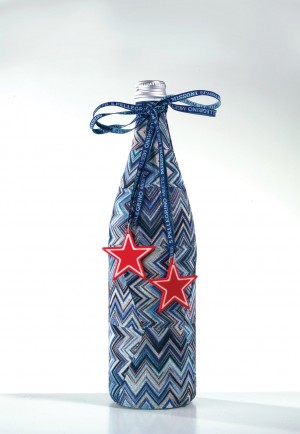 MILAN, Jun 18, 2010 / FW/ — As announced last month, Missoni and S.Pellegrino are collaborating to create a new bottle for the famed bottled water that even Leonardo Da Vinci himself had to sample and analyze in 1395.
For the first time in 100 years, S.Pellegrino had entrusted the bottle to be re-interpreted by another designer and they chose Missoni as the first designer.
Under the newly launched international projecte "ITALIAN TALENTS", S.Pellegrino is creating significant synergies among Italian companies of worldwide renown that operate in the upper bracket of the market and express Italian culture and style, distinguishing themselves for innovation, quality, service, design and prestige.
With this initiative, S.Pellegrino offers and shows to the world the best side of Italy, the part that everybody abroad appreciates and loves.
When focusing upon the principle of sharing values found at the base of the genesis of ITALIAN TALENTS, S.Pellegrino has discerned MISSONI as the ideal partner to launch its first edition of this international project.
Missoni invented a unique Fashion style, joyful and nonconformist. It is an authentic and unmistakable brand, just like S.Pellegrino.
And today, the result of this collaboration, the Missoni-designed Limited Edition S.Pellegrino bottle was unveilved the Missoni Men's Spring 2011 presentation at Vivaio Riva, via Arena 7.
With the Missoni Men's Spring 2011 collection as the main fare, Chef Massimo Bottura also delighted the guests with his extraordinary culinary creations as highest expression of Italian Talents in fine dining. Bellavista wine completed the soirée with their unique flavor of Italian excellence.