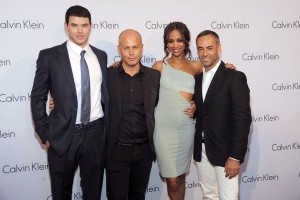 NEW YORK & BERLIN, Jul 8, 2010 / — Kicking off the Spring 2011 Mercedes-Benz Fashion Week Berlin season last night, the company's Creative Directors – Francisco Costa (women's Calvin Klein Collection), Italo Zucchelli (men's Calvin Klein Collection), and Kevin Carrigan (ck Calvin Klein, Calvin Klein Jeans) – as well as the company's President & CEO, Tom Murry, hosted a unique fashion presentation featuring most of the label's high profile brands.
The large-scale, invitation-only event was held at Die Munze, a historic industrial building, and one of the oldest and most important former mints in Germany. This impressive landmark was transformed for the evening into a unique fashion experience that featured over 60 models from around the world.
The guests also watched the 2010 World Cup FIFA match between Germany and Spain on dedicated screens in the courtyard of the venue while D.J. Stretch Armstrong performed throughout the night. The event featured the latest offerings from the Calvin Klein Collection, ck Calvin Klein, Calvin Klein Jeans, and Calvin Klein Underwear brands, along with a special preview of the company's latest fragrance introduction, Calvin Klein Beauty.
Several of Calvin Klein's current global advertising talent were in attendance, including: actress Diane Kruger, face of the recently announced new fragrance, Calvin Klein Beauty, set to debut in Fall 2010; model Lara Stone, who will be featured in the Calvin Klein Collection, ck Calvin Klein, and Calvin Klein Jeans Fall 2010 campaigns; Twilight's Kellan Lutz, one of the four men featured in the current Calvin Klein X Underwear global advertising campaign; and, actress Zoe Saldana, who was announced as the new face of women's Calvin Klein Underwear at a press conference earlier that day. All were wardrobed by Calvin Klein Collection.
Notables in attendance wardrobed in Calvin Klein Collection included Juergen Mayer H., Anna Lynne McCord, Luca Gadjus, Franziska Knuppe, Hannah Herzsprung, Dari Maximova, Barbara Meier, Nadja Michael, Marie Nasemann, Sara Nuru, Clemens Schick, Daria Surneva, Katrin Thormann. Those wardrobed by ck Calvin Klein included Alexandra Nedel, Max von Gumppenberg.
Others notables in attendance included Florian Bartholomäi, Kim Fischer, Sonja Kirchberger, Franziska Knuppe, Barbara Meier, Tino Mewes, Nadja Michael, Alexandra Neldel, Annabelle Mandeng, Sara Nuru, Jana Pallaske, Tobias Schenke, Esther Seibt, Felix Sturm, Kathrin Thormann, Ludwig Trebte, and Vera von Lehndorff, among others.
The event brought together the Spring 2011 and Resort 2011 offerings, which were showcased within the context of a special installation piece created by prominent Berlin-based, J. Mayer H. Architects, who was commissioned by Calvin Klein to create a unique and impactful experience that united the various lines under an overall theme and concept to express a total lifestyle statement.
The presentation also included an exclusive preview of the new fragrance, Calvin Klein Beauty, supported by the face of the brand, Ms. Kruger, which will be in stores this fall. The scent is the first new women's scent to be introduced in five years from the brand and is positioned to be the most prestigious fragrance in the existing global fragrance portfolio.
Photos by 2010 Patrick McMullan/ courtesy of Calvin Klein Inc.