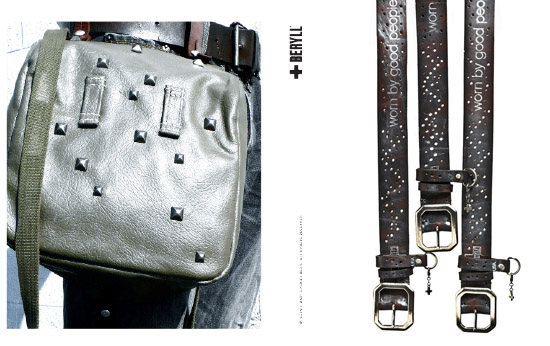 LOS ANGELES, Aug 29, 2010 / FW/ — Kicking off the fall season with the "Shotgun Belt" and the "Vintage Belt Bag", Los Angeles +Beryll Studio once again lives up to its mantra of being the alchemist of pure form & function and trend-setting design.
"Shotgun Belt"
Drawing inspiration from the Wild West, this belt is made of 100% deer hide and showcases unique handmade details. The leather is pounded and finished with light silver pigment resulting in a truly antique look and feel.
True to its name, the shotgun belt has a rustic western look and the markings of a round of shotgun shells. These belts showcase rugged luxury and are the perfect Fall accessory to dress up your favorite pair of jeans. Retail price starting at $ 335.
"Vintage Belt Bag"
A true vintage, the Vintage Belt Bag is refurbished, hand painted then embellished with signature steel rivets. This one of a kind piece has two loops that slide through your belt and a strap so it can double as a shoulder bag.
Made of leather and linen, the Vintage Belt Bag is a representation of pure form, function and laidback luxury that characterizes the +Beryll aesthetics. Retail price starting at $198
Besides the by-appointment-only flagship store in Santa Monica, California +Beryll is worldwide selling at high-end stores and online at www.beryll.com