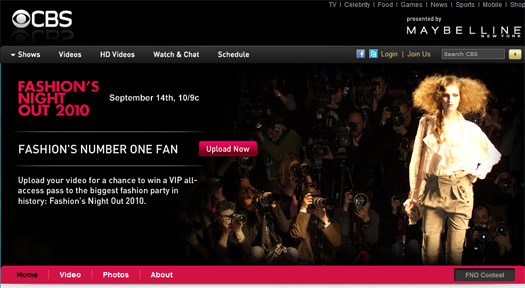 NEW YORK, Aug 19, 2010 / FW/ — Fashion's Night Out, arguably fashion's biggest party of the season will now be in your living room.
On Tuesday, Tuesday, Sept. 14 (10:00-11:00 PM, ET/PT), CBS will broadcast FASHION'S NIGHT OUT 2010 to give viewers a behind-the-scenes look at the making of Fashion's Night Out, focusing on year two of the event, the months of intense planning and preparation, and tracking the night itself as it unfolds across the globe.
Cameras will follow celebrities, designers, editors and retailers as they prepare for one of the most anticipated events of the year, providing a unique view of the creative and logistical work that goes into coordinating an event of this scale.
Looking beyond the glamour to the real-life implications at stake, the show will focus on individuals working in all parts of the industry, from salespeople to design staff, for whom the vibrancy of the fashion business is a question of economic survival.
And as a treat to fashionistas, CBS.com is taking viewers behind-the-scenes into the planning and preparation of Fashion's Night Out and gives a glimpse into what celebrities and the biggest names in fashion are predicting for this year's event, in sneak peek videos from the upcoming CBS primetime special, FASHION'S NIGHT OUT 2010, now available at www.CBS.com/FNO.
Cameras follow fashion luminaries, such as Vogue Editor-in-Chief Anna Wintour, as they develop plans for the 2010 Fashion's Night Out, the event's second year. "We're talking about what we can do differently," Wintour says, "what worked, what didn't work, how we could make it even more exciting."
She also stresses to her editors that, in New York City, "it's very important to the Mayor, and I'm sure in your cities…that this is for everybody."
In addition to the planning of Fashion's Night Out, fans can also view some of the mostexclusive fashion shows from Paris Fashion Week, including Lanvin and Christian Dior; see exclusive photo galleries; and watch interviews with some of the industry's most fashionable and influential people as they share their thoughts about Fashion's Night Out, including Diane von Furstenberg, Vera Wang, Michael Kors and Gwyneth Paltrow.
Supermodel Iman says, "I think it is a wonderful, wonderful thing to rally not only the industry but the retail and the morale of the whole country and I thought it was just really great…You could feel the vibration of the city."
FASHION'S NIGHT OUT 2010 to Be Broadcast on CBS Tuesday, Sept. 14 at 10:00 PM, ET/PT