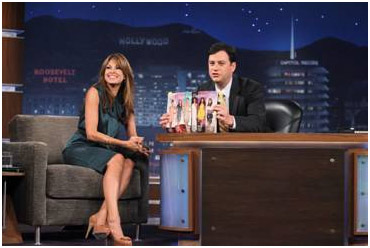 NEW YORK, Aug 5, 2010 / — Last night on "Jimmy Kimmel Live" Eva Mendes spoke about her mom sending her regular "Mom's review" emails to give specific feedback about her various red carpet outfits from around the world.
"My mom is constructively critical," said Eva.
Eva confirmed that her mom emails her a fashion review from head to toe, which Eva shares with her team.
"Do they go nuts when your mom send you something?" Jimmy asked.
"They love it! Because I only read them the good parts," Eva laughingly revealed.
Guillermo Daydreams About Eva Mendes –
Eva Mendes on Jimmy Kimmel Live PART 1 –
Eva Mendes on Jimmy Kimmel Live PART 2 –