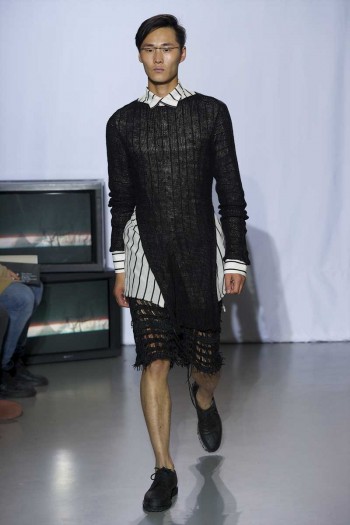 PARIS, Jun 29, 2013/ — A new name from Antwerp, Cedric Jacquemyn is making inroads in a big way in the very competitive Paris fashion scene with his high-concept and inventive approach to menswear.
For Spring 2014, he returns to "Remains of Muted Beliefs" presenting the second chapter on his fashion treatise of disappearing cultures of the ancient Amazon and the dying rituals of their tribes.
For this collection, Jacquemyn plays on the melancholy airs of disintegration and extinction as he wove, captured and streamlined then in veiled layers, the stories of survival of the Amazon tribes locked in the cloth.
A seminal romance dictates the long, lithe silhouette as garments clasp at the throat and fall in decadent swathes of cashmere, silk, linen and cool wool. The dark palette is broken by moments of khaki, bone and a myriad of textures contrasting rough and raw materials with a dim lustre.
Broad stripes of selvedge highlight the intimate structures within jackets and trousers, trimming the split back of bomber jackets or a draped skort. Raw hems finish cotton silk sarouel trousers or glazed shorts, and fine jersey is ribbed and split as loose tank dresses and tees. Jogging pants in leather and knit add a sportive ease to the slim contours.
Bold black stripes across cream linen echo the striated designs of ethnic tattoos and the concentric age lines of ancient trees. A blazer cut in cream muslin clings to its dark lining, and loose knit underpins a bold perfecto biker. The same thread becomes a laddered cardigan and shorts, mingled with leather for a rich and tactile structure.
A collection of artisanal jewellery pieces is crafted in copper, resin and blown glass. The tiny, intricate vessels hold mythical relics: sage leaf for purity and knowledge, volcanic ash for fertility and self-destruction.
On foot, lace-up derbies, trainers and a sandal by Belgian designer ROMBAUT make their runway debut, cut in ecological bark fibers and coated in Amazon latex.
www.cedricjacquemyn.be