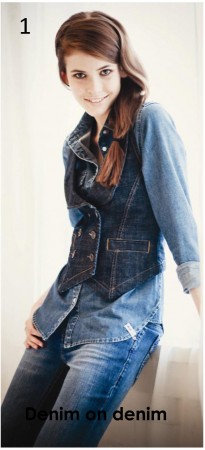 LOS ANGELES, Aug 30, 2010 / FW/ — From the catwalk to the streets, from spring to winter, denim is a versatile and year-round garment. And as Donald Johannesson, Creative & Design Director for Dish Jeans says, "Denim just gets stronger and stronger."
To help women wear the season's top denimwear ideas correctly, the experts at Dish Jeans Ltd., makers of the contemporary label Dish, offer their take on looking stylishly updated in fashion's hottest fabric.
1. Denim on Denim – Once a fashion don't, mixing denim with denim is the season's new do. The way to pull it off seamlessly without overdoing it is all a matter of degrees.
Remember to combine light shades with dark ones to avoid a monochromatic look.
To this end, Dish offers layering pieces, including shirts, vests and skinny jeans, in varying shades of denim that fall together harmoniously so women stay on the right side of this hot trend.
2. Pretty in Plaid – The preppy appeal of a plaid shirt is a perfect companion to the sea of blue denim in hot trend colors such as purple and teal.
Dish's version, worn with a denim pencil skirt in a sophisticated dark wash, is flirty with a softly ruffled collar for a decidedly feminine interpretation of this classic menswear pattern.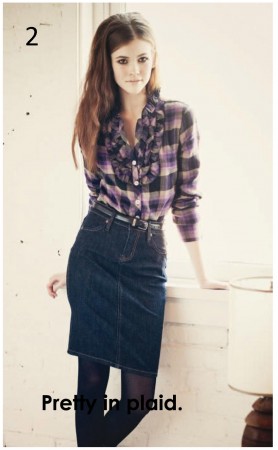 3. Flares with Flair – The skinny jean trend has worn thin and a more relaxed silhouette freshens the look of denim in a trio of flared-leg styles from Dish: a low-rise trouser, Dish's popular Deseray style for curvy bodies, and a classic flare with a fanny-flattering fit that recalls disco-era jeans.
4. Zipper Accents – The best way to stand apart from the crowd is to wear a great-fitting jean with an eye-catching design detail and zippers are the hands-down favorite for fall.
Dish's legging has figure-enhancing benefits with ergonomic side seams that skim and slim the outer edge of the thigh, curving around the knee and slant toward the front of the leg, ending in a long zipper opening that gives the legging extra pizzazz.
5. The Chambray Shirtdress – What better silhouette to wear in the comfort of lightweight chambray than the shirtdress?
This easy, casual style gets a feminine shape from Dish with strategically placed front seams that open into pockets at the waist. In a mini length, it's the perfect complement to shapely legs dressed in stylish tights, another must-have fall accessory.
"For Fall, you'll see denim in every kind of garment you could imagine, from jeans to skirts to vests and jackets, shirts, dresses, even accessories, shoes and bags, in every wash variation possible, making it the pivotal fabric in building any wardrobe," continues Johannesson.
Another sign of denim's importance is that it's definitely no longer a faux pas to wear two denims together. Everywhere you turn, double and triple denim looks are being worn. It just makes a statement that this fabric has finally attained mass acceptance everywhere and highlights its versatility."
Dish Jeans offers premium denim quality at accessible prices ranging from $88 to $108. Sizes include 24 through 34.