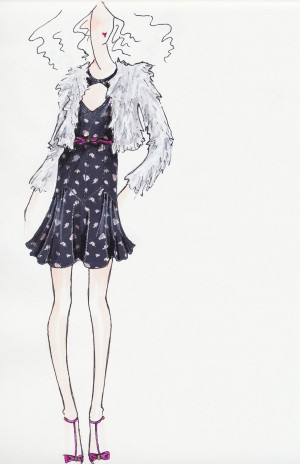 NEW YORK, Feb 7, 2011 / FW/ — A week before fashion week and we continue to catch up with our favorite designers, one of them being Rebecca Taylor whom we have been exchanging emails via her iPad.
Yes! Rebecca Taylor owns an iPad and currently, it is her favorite high tech device. "Everyone is so high tech now. Even my 2 year old knows how to work the IPAD," says the New York-based designer who believes that high tech devices have also become fashion accessories.
And if Rebecca Taylor can have her way, she "would love to design a device that could e-mail a 3-d hologram," which would be amazing!
Speaking of designs, our conversation went towards her Fall 2011 collection which she is unveiling at the Lincoln Center on Feb 11, 2011 at 2:00 PM. Not surprisingly, (since we already know that Ms. Taylor is a technophiliac), the show will also livestream on the web at the same time on www.rebeccataylor.com
When asked what her inspiration was for Fall 2011, Rebecca Taylor said, "Dreamy illusive paintings, blurred images and sparkling lights."
"I'm reminded of dimly lit nights in the chic Parisian night clubs of the 70's. Dresses in luscious prints revealed beneath rich, smokey colored shearlings, found beading and lace patched over delicate printed dresses, lace appliqué on silk tees under shimmering lurex sweaters, cocooned from the cold and ready to set forth on your adventures in the city," Ms. Taylor added.
REBECCA TAYLOR FALL 2011
Stage, Lincoln Center
Mercedes-Benz Fashion Week
Feb 11, 2011 at 2:00 PM
Also livestreaming 2:00PM at www.rebeccataylor.com
[MARI DAVIS]