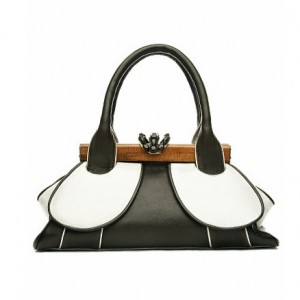 NEW YORK, Aug 27, 2010 / FW/ — After several tries to revive Jacques Fath as an haute couture house, the Alliance Designers Group, current owner of the name Jacques Fath is now reviving the famed label as an accessories brand under the creative direction of Laurence Dumenil.
Established in Paris in 1937 by Jacques Fath, the House of Fath is known equally for progressive design and the couturier's own extravagant lifestyle.
"He liked to give themed balls, where he would bring to life the décor and splendor of times past. He had an ornate sense of showmanship, of disguise, of extravagance," wrote Jeromine Savignon in his book Jacques Fath
Jacques Fath died in 1954 and like many fashion houses during that era wherein operations centered on the couturier, House of Fath ceased clothing and accessory production. Fifty years later, the House of Fath lives on as a division of the Alliance Designers Group owned by Alain Dumenil.
There were at least two unsuccessful attempts to revive the House, with the global economic downturn and the Great Recession as much as mitigating factors as the changing fortunes of haute couture as probably reason for the disappointing results.
Changing strategies, the Alliance Designers Group owner Alain Dumenil named his daughter Laurence Dumeni as head accessory designer at Jacques Fath in September 2007. With that move, the focus turned from apparel to accessories propelling the revival of Jacques Fath into a clearer path.
Under the creative direction of Laurence Dumenil, the accessories collection projects an "atmosphere of Glitter, Chic, and Perfumed Excitement" that permeated both Fath's personal and professional life and distinguished the young, vibrant couture house from others of his period.
Rooted the couturier's eccentric personality, taste for decadent indulgence, and a touch of the unknown, the new Jacques Fath accessories collection fuse Fath's mythical past with Dumenil's own avant-garde twist fostered during time spent at French luxury house Louis Ferard.
The result has been the re-discovery of the lost world of Fath, a quirky vintage wonderland suspended in reality, where evening clutches become tiny antique jewels, spritely relics unearthed from a bygone era, and day totes retain the enchantment of decades past while whispering to the future.
Fabricated from the finest materials, including lizard and python skins in murky hues, and off-set by original Fath detailing including jeweled clasps and moody wooden closures, Jacques Fath accessories harbor secrets of long-forgotten Parisian soirees and enchanted smoke-veiled evenings waiting to be rediscovered.
Jacques Fath Fall Winter 2010 is available for purchase online at www.evesapple.com  
Jacques Fath Spring Summer 2011 will be available for preview By Appointment Only September at [édité] showroom.
[MARI DAVIS]