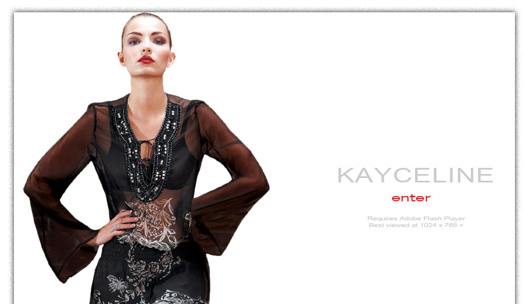 LOS ANGELES, Aug 6, 2010 / — Kay Celine is expanding its website to include e-commerce, enabling consumers to conveniently access and purchase their favorite styles. With an increasing emphasis on e-retailers, Kay Celine has chosen to expand its reach by speaking directly to shoppers via a streamlined, user-friendly avenue.
Kay Celine has been creating wearable separates for the past two decades, offering chiffon tunics in a variety of prints and patterns. Setting the brand apart has been designer Kay Kamran's dedication to chic, timeless styles that transcend age.
Becoming frustrated with the work attire available, Kay Kamran began her design career when she saw a gap in the womenswear market over 20 years ago. Seeking a wardrobe that could easily translate from day to night, Kamran designed a capsule of lace blouses and received a tremendous response.
Specializing in versatile pieces that can be worn from the office through the weekend, Kamran has spent the past two decades perfecting her aesthetic, delivering versatile, sophisticated designs year after year. Every look is a statement unto itself with signature graphic prints, bold embellishments, and hand-beaded detailing, highlighting the brand's detailed aesthetic.
Available for Spring 2010, Kay Celine creates a collection of flirty summer prints with beaded necklines. Light chiffon fabrics and cotton jersey maxi dresses combat the rising temperatures while maintaining an effortlessly chic look.
For Fall 2010, the collection effortlessly translates from day to night with silk chiffon tunics, dip-dyed fringe shirts, chic jersey tops, and beaded tunics. With a touch of romantic glamour, Kay Celine has re-introduced lace this season, referencing her early collections and the re-emergence of this delicate fabric for the modern woman.
Consistently evolving as a collection, Kay Celine has mimicked this approach in developing its business, finding new ways to connect with consumers and capture the attention of the fashion industry. With an emphasis on customer loyalty, the brand will conduct special online sales for valued shoppers through KayCeline.com. In addition, visitors to the site may view the upcoming collections before they deliver to stores, giving the public a sneak peek of what's to come.