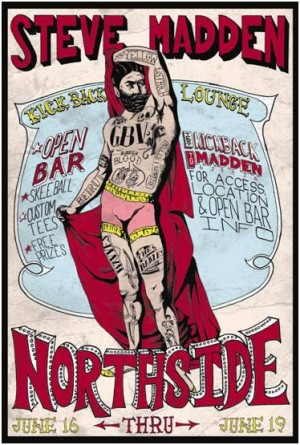 NEW YORK, Jun 14, 2011/ — When it comes to style and music, nobody knows how to rock harder than Steve Madden. For the first time in over three years, the Northside Music Festival is bringing live music back to McCarren Park with fashion mogul, Steve Madden, as its headlining sponsor.
Brooklyn, New York City – the center of culture, music, and street style will host the four-day event showcasing the talent of contemporary creative artists from around the world. Spanning a radius between Williamsburg and Greenpoint, The Northside Festival will open its doors to music lovers of all types from Thursday, June 16th – Sunday, June 19th 2011.
A wide range of talented musicians such as Beirut, Sharon Van Etten, Guided By Voices and Surfer Blood will step onto the official Steve Madden Music stage both Friday and Saturday nights in McCarren Park to rock Brooklyn's socks off. During Saturday's performances, Sirius XMU will be broadcasting Guided By Voices set live straight from the Steve Madden Music stage.
Stirring up excitement both on and off stage – Steve Madden is hosting a VIP "Kick Back" lounge Friday, June 17th through Sunday, June 19th for attendees to relax, play games, and win prizes. How do you become a Steve Madden VIP? Wildpostings will be strategically placed in various locations within the festival grounds.
Each posting will list a call to action number for attendees, to text-in to receive the secret location of the "Kick Back" lounge and special open bar hours. Upon arrival, the VIP guests will enter a carnivalesque atmosphere where they can play classic arcade games like skeeball and whack-a-mole, to win fun prizes like super soakers and giant stuffed animals – all while enjoying a cold drink.
Steve Madden is awarding badges to winning attendees who enter to win prizes as well as direct access to the exclusive "Kick Back" Lounge. Select bloggers – names not yet to be released – will act as VIP badge holders and special Steve Madden correspondents for the festival.
The performances, "Kick Back" Lounge, Rock N' Roll photo booth, as well as various contests will be promoted on the brands Twitter, Facebook, and website encouraging fans to come and support Steve Madden and its sponsorship of the Northside Festival. Attendees are invited to tweet photos, and other updates from the festival using #stevemaddenmusic.
In addition, Steve Madden is teaming up with location-based music app Livetapp, providing special offers to those who check in at select venues throughout the festival.
On Saturday, June 18th select streets on Bedford Avenue will be closed off from 12-8pm. At this time, a Rock N' Roll photo booth sponsored by Steve Madden will be set up on Bedford between N9th and N10th streets where attendees are encouraged to channel their inner rock star by dressing and playing the part with props and a green screen of typical rock star scenarios – i.e. stage, trashed hotel, Vegas city limits, and will leave with the pictures to prove it.