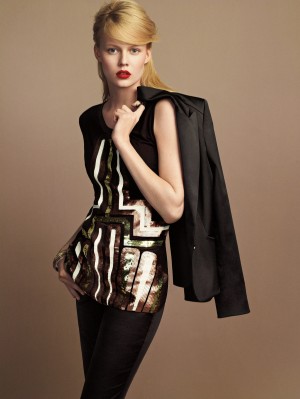 DALLAS, Aug 18, 2010 / FW/ — JCPenney continues its quest to be the hip and cool fashion destination with the launch of MNG by Mango exclusively at JCPenney stores nationwide.
A leading international fashion retailer, currently in 100 countries, Mango has been a long time favorite in Europe and of course Spain, which is its home country.
With MNG by Mango at JCPenny, the Plano-based retailer brings high quality, affordable European runway fast fashion directly to the JCPenney customer.
The collaboration between Mango and JCPenney capitalizes on the strengths of both companies, combining Mango's fast fashion leadership with JCPenney's merchandising, marketing and inventory management capabilities.
MNG by Mango expands JCPenney's exceptional, exclusive contemporary assortment which currently includes ALLEN B®, I Heart Ronson® and Bisou Bisou® and builds on the successful integration of Sephora inside JCPenney enabling the Company to continue to capitalize on its full fashion potential with top, global brands.
MNG by Mango will present a full contemporary lifestyle offering of career and casual women's sportswear as well as handbags, accessories and footwear.
The brand will fall into JCPenney "better" and "best" pricing tiers with items retailing from $9.90-$19.90 for a tee to $59.90-$159.90 for a jacket.
Creating an impactful brand presence and specialty store feel, MNG by Mango will be featured in-store in a dedicated shop-within-a-shop experience that will transform JCPenney's contemporary offering.
The shop-within-a-shop will be presented with the look-and-feel of a standalone Mango store, including the retailer's signature black and white logo, stylized fixtures and chandeliers, as well as lifestyle images and mannequins featuring head-to-toe looks showcasing the latest fashion trends.
The brand will be available on jcp.com and in 77 JCPenney stores across the country beginning in fall 2010 and will expand into 600 stores by fall 2011.
Additionally, Associates at any of JCPenney's 1,107 stores will be able to assist customers interested in purchasing MNG by Mango merchandise as all point-of-sale registers are connected directly to jcp.com.