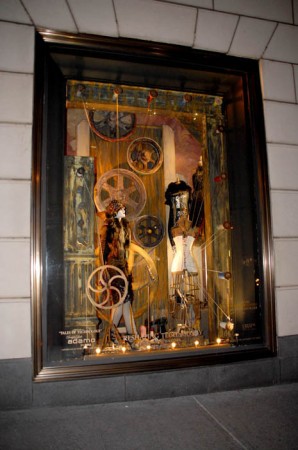 NEW YORK, Nov 5, 2010 / — Of all of the stores in Manhattan, Bergdorf Goodman never ceases to amaze crowds with its magnificent windows during the holiday season.
On November 15th, its window curtain will be lifted and the public will be able to see what the store's visual mastermind David Hoey has come up with for this holiday season.
But this year, the high-end retailer is encouraging people to visit Polyvore.com, the largest fashion community on the web, to create their own Bergdorf Goodman holiday windows for a chance to win a $2500 Bergdorf Goodman gift card, an autographed copy of a new limited edition book Windows at Bergdorf Goodman
by Linda Fargo and David Hoey.
The winner will also get an invitation to the book signing and holiday window unveiling party and a private tour of the holiday windows by Mr. Hoey himself. Hoey and his creative team will also select the winning set.
Contest link: http://www.polyvore.com/in_window_far_away_day/contest.show?id=222857
Bergdorf Goodman is the home of nearly every notable luxury brands and each of them vies to be in BG's windows at any point during the year. Polyvore will have top billing for two weeks during a pivotal sales period and beginning today, Bergdorf Goodman windows will read:
Our holiday windows will be unveiled on Friday, November 19. While you're waiting to see what we've been up to, create your own holiday fantasy. Enter our holiday window challenge at Polyvore.com through Friday, November 12. Our window wizards will select the prizewinner. Visit www.polyvore.com/Bergdorf  
This is the first partnership between Silicon Valley based Polyvore and Bergdorf Goodman and is a major step in the direction of democratizing fashion and bringing new ideas to old traditions.
Photo by EDWARD COLELLI