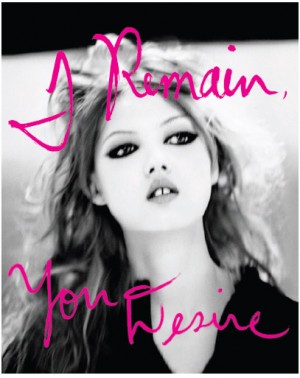 NEW YORK, Aug 26, 2010 / — If you're in New York for the fashion season, make time to see the "I Remain, You Desire" photo exhibit at Sotheby's.
"I Remain, You Desire," is a selection of distinctive photographs by award-winning photographer Gabrielle Revere. The exhibition, which will be held at Sotheby's in New York City from September 1-21, 2010, is an intimate series of images featuring model Lindsey Wixson.
The photographs explore what lies beneath the obvious, to illuminate the relationship between the subject and viewer— the seen and the unseen. Revere deftly pierces glamour's veil of illusion to reveal the emotional juxtaposition and complexity of the untouchable, as captured by her lens. Purity, desire, and timelessness are bound together, enveloping the viewer with an irresistibly compelling force.
Gabrielle Revere's work is a rarity within the photography world. Her lush, provocative images capture the honesty of yearning and vulnerability. For over ten years, Revere's photographs have illuminated the pages of influential publications and advertising campaigns.
In addition, she held a solo exhibition at Milk Gallery in New York entitled "I Only Have Eyes For You" and participated in several group shows, which included works by Damien Hirst, Keith Haring and Andy Warhol.