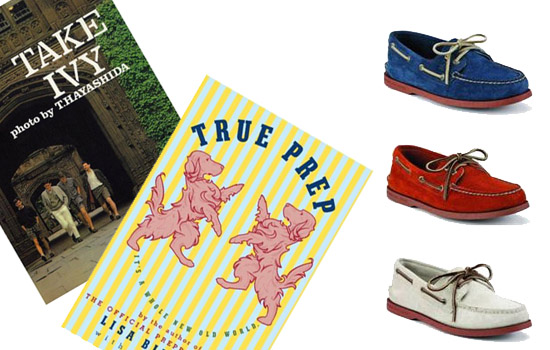 DALLAS, Aug 30, 2010 / FW/ — Two books and a pair of shoes make an unlikely triad. But, when you talk about preppy style, they are interchangeably linked.
Originally published in Japan in 1965, "Take Ivy
" had been described by The New York Times as "a treasure of fashion insiders." Its publication set off an explosion of American-influenced "Ivy Style" fashion among students in the trendy Ginza shopping district of Tokyo.
Surprisingly, though written by non-Americans, "Take Ivy
" is now considered a definitive document of this particular style, and rare original copies are highly sought after by "trad" devotees worldwide.
A small-run reprint came out in Japan in 2006 and sold out almost immediately. And tomorrow, August 31st, for the first time ever, powerHouse is reviving this classic tome with an all-new English translation.
Also, from the author of The Official Preppy Handbook comes a new take on the old world that Lisa Birnbach turned into an international best-selling phenomenon thirty years ago.
True Prep: It's a Whole New Old World
, to be released on September 7th, looks at how the old guard of natural-fiber-loving, dog-worshipping, G&T-soaked preppies adapts to the new order of the Internet, cell phones, rehab, political correctness, reality TV and…polar fleece.
The explosion of interest in the pink-and-green lifestyle has also hit the fashion arena with the revival of classic preppy brands, including Sperry Top-Sider, which celebrates their 75th anniversary this year as America's favorite boat shoe.
The brainchild of Paul Sperry, the Sperry Top-Sider was invented in 1935, which would become the world's first and most enduring boat shoe. Not surprisingly, Sperry Top-Sider's birthplace is also the home of preppy style, the American Northeast.
According to Sperry Top-Sider company history, Paul Sperry was taking his cocker spaniel named Prince during a raw winter day in New England. An avid sailor, Paul Sperry noticed how Prince was remarkably stable even at a full run on the snow covered icy crust ground.
And from there, an idea was born – using an ordinary sneaker, several pieces of rubber and a razor blade, the prototype for Sperry Top-Sider was created and the boat shoe was born. Today, that heritage and performance are hard at work for those who can't live without the water and became an integral part of the New England preppy style.
[MARI DAVIS]